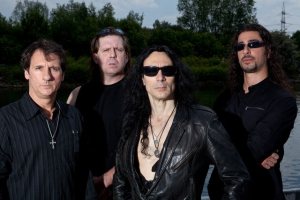 Virgin Steele
David DeFeis

:

Vocals, Keyboards, Orchestration

(1981-)

, Bass

(2002-)

Edward Pursino

:

Guitars

(1985-)

, Bass

(1994-1995, 1999-2002)

Joshua Block

:

Bass

(2000-2002)

, Guitars

(2000-)
Joe O'Reilly

:

Bass

(1981-1992)

Kelly Nichols

:

Bass

(1981)

Joey Ayvazian

:

Drums

(1981-1995)

Jack Starr

:

Guitars

(1981-1984)

Teddy Cook

:

Bass

(1992)

Rob DeMartino

:

Bass

(1993-2001)

Frank Gilchriest

:

Drums

(1994-2015)

Jeff Beavers

:

Bass

(2000)

Frank Zummo

:

Drums

(2001)
Releases : 15 Total votes : 2 Reviews : 2
Added by

Eagles
Last edited by

SludgeLeader
Virgin Steele Discography
Additional notes
Virgin Steele was formed in 1981 by guitarist Jack Starr, who soon found drummer Joey Ayvazian and bassist Kelly Nichols. A host of singers were considered, before David DeFeis (who had been in the bands Phoenix and Mountain Ash) joined, thanks to amazing renditions of Child in Time, No Quarter, and Catch the Rainbow. He brought with him bassist Joe O'Reilly, whom he had met in music school. Kelly Nichols left, but would later show up in L.A. Guns! In October, 1981, Virgin Steele was officially born.

A demo was recorded in November 1981 after three weeks of rehearsing. This actually turned into the "Virgin Steele" album, and was released in late 1981. The track "Children of the Storm" was featured on Mike Varney's "U.S. Metal" compilation, in 1982. In 1983, the second album was released, "Virgin Steele II: Guardians of the Flame". An EP was released as well, called "A Cry in the Night" in Europe, and "Wait for the Night" in the US, with a slightly different tracklist. The band also had an appearance on 1984's "New York Metal" compilation, as well as a historic concert on March 28th, 1984, where "Miss New York Metal" was crowned. (A bootleg video exists!)

At this point in time, Jack Starr and David Defeis wanted to go in different directions musically, and David, Joe, and Joey had started jamming with guitarist Edward Pursino. This led to Jack Starr being fired from the band in 1984. After a legal battle, the band was allowed to keep the name Virgin Steele, despite Jack being the founding member. Edward was never officially invited to join the band, he just "came down one day and never left" (David Defeis, 1997).

At this point in time, 1985, the band actually recorded a speed metal album under the name Exorcist... this was none other than Defeis, Pursino, O'Reilly, and Ayvazian! However, the band to this day denies that it was them - possibly due to legal implications with Jack Starr. Later in 1985, the Noble Savage album was recorded, and released in 1986 after the conclusion of legal dealings. 1987 brought tours with Manowar and Black Sabbath, both in Europe, and the recording of the album "Age of Consent". Due to Joe O'Reilly being ill, it was David and Edward that played the bass in the studio. The album was finished in July, 1988, on Maze Records, and due to awful promotion, remained very obscure for a while. But the band continued touring. David Defeis also did a few gigs with Jack Starr (of all people!), Bobby Rondinelli and future Virgin Steele bassist Rob DeMartino in a band called Smokestack Lightning in 1990.

In 1992, Joe O'Reilly left, and was replaced by Teddy Cook (Dio) for some studio sessions, and finally Rob DeMartino. This lineup recorded 1993's "Life Among the Ruins" and there was a European tour.

David Defeis felt "an abundance of energy and creativity" in 1994, and decided to do a double album, "The Marriage of Heaven and Hell". A total of 60 songs were originally written: 30 by David, and 30 more by David and Edward! Bass was handled by Edward Pursino, as Rob had joined Rainbow for a tour. The first part of the double album was released in January, 1995, and the second in 1996. Joey Ayvazian left the band sometime during the Marriage II sessions, and Rob returned as a full member, though only for the tour (Edward handled the bass). Joey retired and became an inventor! Frank Gilchriest replaced him.

The Invictus album was released in 1998, and then another two-part concept album, "The House of Atreus". Recent releases include "The Book of Burning" and "Hymns to Victory", which include re-recorded songs from the old days of the band, and finally all of the old albums up to Age of Consent have been re-mastered with bonus tracks.

Bassist Josh Block joined after Rob DeMartino left the band, during the European tour in 2001. Frank Gilchriest recently joined Gothic Knights.

Former member Jack Starr has reappeared with a new band titled, appropriately enough, Guardians of the Flame.