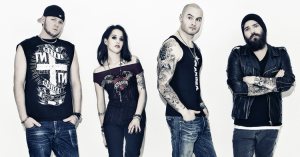 Sonic Syndicate
Nathan James Biggs

:

Vocals

(clean)

, Vocals

(harsh)

(2009-)

Karin Axelsson

:

Bass

(2005-)

Robin Sjunnesson

:

Guitars

(rhythm)

(2005-)

John Bengtsson

:

Drums

(2006-)
Kristoffer Bäcklund

:

Drums, Vocals

(clean)

(2005-2006)

Roger Sjunnesson

:

Guitars

(lead)

, Keyboards

(2005-2012)

Andreas Mårtensson

:

Keyboards

(2005-2006)

Richard Sjunnesson

:

Vocals

(harsh)

(2005-2010)

Roland Johansson

:

Vocals

(clean)

, Vocals

(harsh)

(2006-2009)

Live Musician

Christoffer Andersson

:

Harsh Vocals

(2010-)
Releases : 9 Total votes : 1 Reviews : 0
Added by

Angelbeats
Last edited by

Angelbeats
Sonic Syndicate Discography
Additional notes
Formed in 2000 as Tunes of Silence, but in 2002 they changed their name to Fallen Angels, and in 2005 to Sonic Syndicate.

NOTE: Don't add former members if they only played when the band was called "Fallen Angels".

Richard Sjunnesson and Roland Johansson also did vocals together on one song from the Nuclear Blast Allstars album 'Out of the Dark'.

Richard Sjunnesson left Sonic Syndicate in October 2010 "because of Nuclear Blast changing the musical direction of the band" (according to himself). Later he formed The Unguided with Roger and Roland to make the music he planned for Sonic Syndicate.