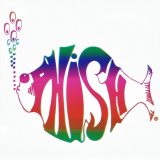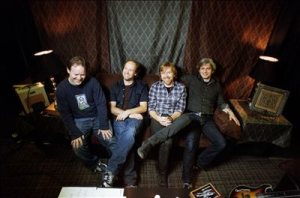 Phish
Country

United States

Formed
1983,

Burlington, Vermont

Genres

Progressive Rock

,

Jazz-Rock

,

Alternative Rock

,

Funk Rock

,

Jam Band

Labels
Elektra Records, Rhino Records, WMG, JEMP Records, MapleMusic
Trey Anastasio

:

Vocals, Guitar

Page McConnell

:

Keyboards, Vocals

Mike Gordon

:

Bass, Vocals

Jon Fishman

:

Drums, Vocals, Vacuum
Releases : 71 Total votes : 0 Reviews : 0
Added by

Pop-Tarts
Album title
Lyrics
Type
Released
Rating
Votes
Reviews

Junta

(1989)

Studio

1989-05

-
0
0

Lawn Boy

(1990)

Studio

1990-09-21

-
0
0

A Picture of Nectar

(1992)

Studio

1992-02-18

-
0
0

Rift

(1993)

Studio

1993-02-02

-
0
0

Hoist

(1994)

Studio

1994-03-29

-
0
0

A Live One

(1995)

Live

1995-06-27

-
0
0

Billy Breathes

(1996)

Studio

1996-10-15

-
0
0

Stash

(1996)

Compilation

1996-10-15

-
0
0

Slip, Stitch and Pass

(1997)

Live

1997-10-28

-
0
0

The Story of the Ghost

(1998)

Studio

1998-10-28

-
0
0

The Siket Disc

(1999)

Studio

1999-06-03

-
0
0

Hampton Comes Alive

(1999)

Live

1999-11-23

-
0
0

Bittersweet Motel

(2000)

Video

2000

-
0
0

Farmhouse

(2000)

Studio

2000-05-16

-
0
0

Live Phish 03 - 9.14.00 - Darien Lake Performing Arts Center - Darien Center, New York

(2001)

Live

2001-09-18

-
0
0

Live Phish 01 - 12.14.95 - Broome County Arena - Binghamton, New York

(2001)

Live

2001-09-18

-
0
0

Live Phish 02 - 7.16.94 - Sugarbush Summerstage - North Fayston, Vermont

(2001)

Live

2001-09-18

-
0
0

Live Phish 04 - 6.14.00 - Drum Logos - Fukuoka, Japan

(2001)

Live

2001-09-18

-
0
0

Live Phish 05 - 7.8.00 - Alpine Valley Music Theater - East Troy, Wisconsin

(2001)

Live

2001-09-18

-
0
0

Live Phish 06 - 11.27.98 - the Centrum - Worcester, Massachusetts

(2001)

Live

2001-10-30

-
0
0

Live Phish 07 - 8.14.93 - World Music Theatre - Tinley Park, Illinois

(2002)

Live

2002-04-16

-
0
0

Live Phish 08 - 7.10.99 - E Centre - Camden, New Jersey

(2002)

Live

2002-04-16

-
0
0

Live Phish 09 - 8.26.89 - Townshend Family Park - Townshend, Vermont

(2002)

Live

2002-04-16

-
0
0

Live Phish 10 - 6.22.94 - Veterans Memorial Auditorium - Columbus, Ohio

(2002)

Live

2002-04-16

-
0
0

Live Phish 11: 11.17.97 - McNichols Sports Arena - Denver, Colorado

(2002)

Live

2002-04-16

-
0
0

Live Phish 12 - 8.13.96 - Deer Creek Music Center - Noblesville, Indiana

(2002)

Live

2002-04-16

-
0
0

Live Phish 13 - 10.31.94 - Glens Falls Civic Center - Glens Falls, New York

(2002)

Live

2002-10-29

-
0
0

Live Phish 14 - 10.31.95 - Rosemont Horizon - Rosemont, Illinois

(2002)

Live

2002-10-29

-
0
0

Live Phish 15 - 10.31.96 - the Omni - Atlanta, Georgia

(2002)

Live

2002-10-29

-
0
0

Live Phish 16 - 10.31.98 - Thomas & Mack Center - Las Vegas, Nevada

(2002)

Live

2002-10-29

-
0
0

Live in Vegas

(2002)

Video

2002-11-12

-
0
0

Round Room

(2002)

Studio

2002-12-10

-
0
0

Live Phish - 02.28.03 - Nassau Coliseum - Uniondale, NY

(2003)

Live

2003

-
0
0

Live Phish 17 - 7.15.98 - Portland Meadows - Portland, Oregon

(2003)

Live

2003-05-20

-
0
0

Live Phish 18 - 5.7.94 - the Bomb Factory - Dallas, Texas

(2003)

Live

2003-05-20

-
0
0

Live Phish 19 - 7.12.91 - Colonial Theatre - Keene, New Hampshire

(2003)

Live

2003-05-20

-
0
0

Live Phish 20 - 12.29.94 - Providence Civic Center - Providence, Rhode Island

(2003)

Live

2003-05-20

-
0
0

Livephish - 2003 - 07/15/2003

(2003)

Live

2003-12-16

-
0
0

Undermind

(2004)

Studio

2004-06-15

-
0
0

Phish: IT

(2004)

Video

2004-10-05

-
0
0

Live Phish - Island Tour - 04.03.98

(2005)

Live

2005-07-19

-
0
0

Live Phish - Island Tour - 04.02.98

(2005)

Live

2005-07-19

-
0
0

Live Phish - Island Tour - 04.04.98

(2005)

Live

2005-07-19

-
0
0

Live Phish - Island Tour - 04.05.98

(2005)

Live

2005-07-19

-
0
0

Live At Madison Square Garden New Years Eve 1995

(2005)

Live

2005-11

-
0
0

Live in Brooklyn

(2006)

Live

2006-07-11

-
0
0

Live in Brooklyn

(2006)

Video

2006-07-11

-
0
0

Colorado '88

(2006)

Live

2006-10-31

-
0
0

Live Phish 12.29.97

(2006)

Live

2006-12-18

-
0
0

Live Phish 10.21.95

(2007)

Live

2007-08

-
0
0

Vegas 96

(2007)

Live

2007-11-20

-
0
0

Road to Vegas

(2007)

EP

2007-11-20

-
0
0

Live Phish 05.08.93

(2008)

Live

2008-02-05

-
0
0

Live Phish 07.06.98

(2008)

Live

2008-03-25

-
0
0

Walnut Creek

(2008)

Video

2008-08-05

-
0
0

At the Roxy

(2008)

Live

2008-11-18

-
0
0

The Clifford Ball

(2009)

Video

2009-03-03

-
0
0

Joy

(2009)

Studio

2009-09-08

-
0
0

Party Time

(2009)

Studio

2009-09-08

-
0
0

Live Phish - 06.27.10 - Merriweather Post Pavilion - Columbia, MD

(2010)

Live

2010-06-28

-
0
0

Live Phish - 08.07.10 - Greek Theatre - Berkeley, CA

(2010)

Live

2010-08-08

-
0
0

Live at the Legendary Alpine Valley Music Theatre

(2010)

Video

2010-12-14

-
0
0

Hampton/Winston-Salem '97

(2011)

Live

2011-12-06

-
0
0

Live Phish 12.31.91 - Worcester Memorial Auditorium, Worcester, MA

(2011)

Live

2011-12-30

-
0
0

Chicago '94

(2012)

Live

2012-07-31

-
0
0

Star Lake 98

(2012)

Video

2012-12-11

-
0
0

Ventura

(2013)

Live

2013-06-18

-
0
0

Niagara Falls

(2013)

Live

2013-11-12

-
0
0

Fuego

(2014)

Studio

2014-06-24

-
0
0

Amsterdam

(2015)

Live

2015-06-16

-
0
0

Big Boat

(2016)

Studio

2016-10-07

-
0
0
Additional notes
Artist Biography by Stephen Thomas Erlewine

During the early '90s, Phish emerged as heirs to the Grateful Dead's throne. Although their music was somewhat similar to the Dead's sound -- an eclectic, free-form rock & roll encompassing elements of folk, jazz, country, bluegrass, and pop -- the group adhered more to jazz-derived improvisation than folk tradition. Moreover, they sported a looser, goofier attitude; after all, their drummer regularly played a vacuum during their concerts. However, Phish's main claim as the inheritors to the Dead's legacy was their approach to their musical career. The band didn't concentrate on albums, dedicating themselves instead to live improvisation. Within a few years of their 1988 debut, Phish had become an institution in certain sections of America, particularly college campuses and other liberal locales. While their in-concert popularity didn't necessarily translate to huge record sales (their biggest-selling albums usually halted at gold status, with the notable exceptions of Junta and A Live One), Phish's members were still the de facto leaders of the neo-hippie jam band movement.

Guitarist/vocalist Trey Anastasio, drummer Jon Fishman, and guitarist Jeff Holdsworth formed the band in late 1983 while attending the University of Vermont. After meeting and jamming in their dormitory, the trio posted flyers across campus to recruit a bassist. Mike Gordon answered the advertisement and he was soon added to the original lineup. Phish began practicing regularly and soon assembled a demo tape; by the fall of 1984, they'd also begun performing off-campus concerts. At this stage in their career, the band was augmented by percussionist Marc Daubert and, occasionally, a vocalist called the Dude of Life. Keyboardist Page McConnell soon joined the group, too, having previously booked Phish to play Goddard College's Springfest in 1985. Shortly after McConnell's arrival, Holdsworth left the group, and both Anastasio and Fishman transferred to Goddard College during the fall of 1986.

Early in 1988, Phish recorded the debut album Junta, which they sold as a cassette-only release at local shows. The group played their first tour outside of New England the following year, traveling through the Southeast. Phish also recorded another album, Lawn Boy, in 1989, although the album wasn't released until the fall of 1990 (when it was issued by the independent label Absolute A-Go-Go, a subsidiary of Rough Trade). Throughout early 1991, Phish toured America; during the summer, they recorded their third album, as well as a set of sessions with their old friend, the Dude of Life.

Rough Trade collapsed that August, taking Absolute A-Go-Go with it. Phish were left without a record contract, but they were soon signed by Elektra, which released A Picture of Nectar in February 1992. The group then embarked on an extensive national tour to support the album, including a handful of shows on the H.O.R.D.E. tour. That same summer, Elektra reissued Lawn Boy and Junta, which gave fans greater access to the band's early material. Rift, Phish's fourth album (and the first they recorded with a producer), appeared in February of 1993. During Phish's 1993 tour, the group sold tickets specifically designed for those fans who were taping the concert, a major gesture of goodwill. Hoist, the band's fifth album, was released in 1994; one of its songs, "Down with Disease," became the band's first video and received some airplay on MTV. Hoist sold better than the group's previous albums, which was an indication of how large the group's fan base had become. Crimes of the Mind, the album Phish had originally recorded with the Dude of Life in 1991, was released on Elektra Records before the year's end.

In the summer of 1995, the band released the double-live album A Live One, which attempted to definitively capture the Phish concert experience. The year 1996 saw two additional releases -- one of them a Trey Anastasio solo project (a free-form jazz side project called Surrender to the Air), and the other a full-fledged Phish album entitled Billy Breathes. Produced by Steve Lillywhite, Billy Breathes garnered the group's best reviews yet. Slip, Stitch & Pass, the band's second live LP, followed in 1997, and Phish continued their prolific output in 1998 with the studio effort Story of the Ghost. Hampton Comes Alive, a six-disc release that captured four full live sets over the course of two performances, appeared in late 1999 and went gold, a testament to Phish's rabid following.

Phish's popularity only grew during the latter half of the '90s, as their ceaseless touring had helped make them one of the top concert draws in the nation. In the spring of 2000, Phish delivered the pastoral studio effort Farmhouse, which was hailed as one of their finest and tightest releases to date; they also landed some mainstream exposure thanks to the single "Heavy Things." However, exhausted by touring and separation from their families, Phish decided to take an extended break, announcing a temporary breakup in October 2000. One month later, Elektra reissued The Siket Disc, which was previously available only through mail order; it featured improvisational tracks from the band's 1997 Story of the Ghost sessions.

Each member branched out into different directions during this period. Anastasio released a series of demos before collaborating with Primus bassist Les Claypool and former Police drummer Stewart Copeland for the bizarre Oysterhead project. He also released an eponymous solo album during the spring of 2002. Jonathan Fishman worked with his own side project, Pork Tornado, as well as the touring jazz combo Jazz Mandolin Project. Page McConnell released the first recordings from his other band, Vida Blue, and contributed keyboards to Tenacious D's first record. Mike Gordon, meanwhile, did some work with friend and former employer Col. Bruce Hampton; he also dabbled in film work, both in front and behind the camera. Finally, both Gordon and McConnell worked on Gov't Mule's The Deep End, Vol. 1.

As for the band, Phish became more a part of American culture than ever before, and they made an appearance on The Simpsons before releasing a massive set of live albums (as well as a DVD) during the spring of 2002. By the end of the year, the group bowed to pressure and announced that they would begin to play live dates again, starting at the end of December. Touring soon commenced and continued for a year and a half; however, following the release of Undermind, the group decided to officially call it quits in the summer of 2004. Of course, this didn't mean that more albums couldn't be released, as a slew of posthumous releases kept the band's spirit alive while maintaining demand for Phish's reunion. The year 2005 saw the release of a 1995 New Year's Eve concert at Madison Square Garden, 2006 witnessed another live album with Live in Brooklyn, and 2008 brought about the mammoth At the Roxy (Atlanta '93), which compiled eight discs of live concert material into one package.

Phish's official reunion arrived in March 2009, when the band played three sold-out shows at the Hampton Coliseum in Virginia. A reunion tour was launched that summer (with venues including Fenway Park and the main stage at Bonnaroo), and sporadic shows continued throughout the year. In addition to playing live, Phish also released their first studio album in years, having partnered with former Billy Breathes producer Steve Lillywhite for the creation of 2009's Joy; the album debuted at 13 on the Billboard Top 200. From that point on, Phish toured regularly, appearing at festivals of their own making and headlining other events, including the Austin City Limits Music Festival, Outside Lands, and Bonnaroo. Along the way, some archival releases appeared, including the 2013 box set Ventura, which housed two late-'90s concerts performed at the Ventura County Fairgrounds.

In 2013 Phish reconvened at their Vermont studio, the Barn, for writing sessions that resulted in a set of ten songs for a new studio album. The bulk of the songs were debuted live at their Halloween concert in Atlantic City, after which the band decamped to Nashville to record with famed producer Bob Ezrin. Entitled Fuego, the album, their tenth, was released in June 2014 and was preceded by the single "Waiting All Night."