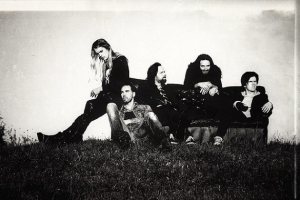 Pain of Salvation
Daniel Gildenlöw

:

Vocals, Guitars, Bass

(1984-)

Léo Margarit

:

Drums, Backing Vocals

(2007-)

Daniel Karlsson

:

Keyboards, Backing Vocals

(2011-)

Gustaf Hielm

:

Bass

(2013-)
Joakim Strandberg

:

Bass

(1984-1990)

Mikael Pettersson

:

Drums

(1984-1989)

Daniel Magdic

:

Guitars

(1986-1997)

Johan Langell

:

Drums, Vocals

(1989-2007)

Magnus Johansson

:

Bass

(1990-1992)

Kristoffer Gildenlöw

:

Bass, Vocals

(1994-2006)

Fredrik Hermansson

:

Keyboards

(1996-2011)

Johan Hallgren

:

Guitars, Vocals

(1998-2011)

Simon Andersson

:

Bass, Vocals

(2007-2008)
Releases : 7 Total votes : 3 Reviews : 2
Added by

Eagles
Last edited by

SludgeLeader
Pain of Salvation Discography
Best Pain of Salvation Songs
Additional notes
Known for a short while as Reality.

With regards to their name, this is taken from a 1999 interview with Daniel Gildenlöw:
"I wanted a name that meant something, a name that was more than a cool expression. For me, Pain of Salvation has the meaning of balance. Taking the good with the bad. It is also a good expression in everyday use, when something does not go the way you planned; "well, that's just the pain of salvation," to indicate that this is just a slight setback on an otherwise painless journey towards your goal. The idea with the name is that everything has two sides, everything is in balance. Imagine yourself exhausted in the middle of a desert... Sitting down will take away your pain, but it will kill you. The walk for water will hurt, but it may save your life."

They played the Prognation at Sea festival in 2014, without Daniel Gildenlöw, as he was in hospital, recovering from a skin infection.

Daniel Gildenlöw sang for Hammer of the Gods, a short-lived Led Zeppelin cover band featuring Dream Theater drummer Mike Portnoy, Steve Morse Band bassist Dave LaRue, and Racer X guitarist Paul Gilbert.

Daniel Gildenlöw also helped out on a Transatlantic tour, providing vocals, guitar, keyboard and percussion for several live shows. He has also helped out the prog band The Flower Kings in the past and is now an official member.

Johan Hallgren left the band to focus on his family-life.
Ragnar Zolberg was announced in 2012 only as touring guitarist and vocalist.

All Pain Of Salvation full-lengths (except "Falling Home") are concept albums. They deal with topics as diverse as war and its effect on family and humanity, environmental issues (e.g., nuclear power), the forming of the individual, and the nature of God, humankind, and existence.