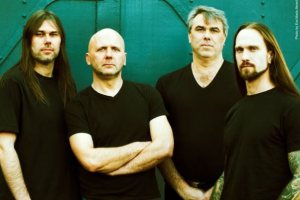 Nightingale
Dan Swanö

:

Drums

(1994-2000)

, Vocals, Guitars, Keyboards

(1994-)

Dag Swanö (Tom Nouga)

:

Bass

(1996-2000)

, Guitars, Keyboards

(1996-)

Erik Oskarsson

:

Bass

(2000-)

Tom Björn

:

Drums

(2000-)
Releases : 9 Total votes : 0 Reviews : 0
Added by

Eagles
Last edited by

SludgeLeader
Additional notes
Nightingale started out as a solo goth rock project by Dan Swanö during a time when he was strongly infatuated with bands like The Sisters of Mercy. For the second album he teamed up with his brother, Dag who took the stage name Tom Nouga to avoid confusion due to the similarities of the brothers' names, and the resulting sequel to The Breathing Shadow was more along the lines of a slightly progressive 70s hard rock album. After this they played a few live shows with a temporary line-up and went on a hiatus as the brothers returned to their respective projects.

They got back together in 1999 to do a third album after the material Dag played some of his new solo material for Dan and they decided it sounded very much like Nightingale. The full line-up got together on Christmas 2000.

Participated on "A Black Mark tribute" (1997) with the song "Return to Fantasy" (Uriah Heep cover) (04:21).