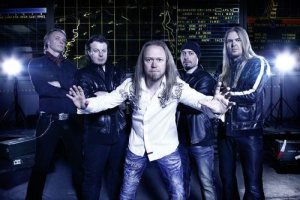 Masterplan
Rick Altzi

:

Vocals

(2012-)

Roland Grapow

:

Guitars

(2001-)

Jari Kainulainen

:

Bass

(2012-)

Martin "Marthus" Skaroupka

:

Drums

(2012-)

Axel Mackenrott

:

Keyboards

(2002-)
Uli Kusch

:

Drums

(2001-2006)

Janne Warman

:

Keyboards

(2001-2002)

Jørn Lande

:

Vocals

(2002-2006, 2009-2012)

Jan-Sören Eckert

:

Bass

(2003-2012)

Mike Terrana

:

Drums

(2007-2012)

Mike DiMeo

:

Vocals

(2007-2009)
Releases : 4 Total votes : 1 Reviews : 1
Added by

Eagles
Last edited by

SludgeLeader
Album title
Lyrics
Type
Released
Rating
Votes
Reviews

Masterplan

(2003)

Studio

2003-01-20

90
1
1

Aeronautics

(2005)

Studio

2005-01-24

-
0
0

Lost and Gone

(2007)

EP

2007-01-26

-
0
0

MK II

(2007)

Studio

2007-02-23

-
0
0
Additional notes
Initially planned as a project beside Helloween (during "The Dark Ride" sessions) including Roland Grapow, Uli Kusch, Roy Z as producer, Janne Warman on keyboards and Russell Allen as singer, Masterplan became the new band of Uli and Roland after they were fired from Helloween.

Because Masterplan had become a full-time band, they decided to find a singer and keyboard player that could treat the band as more than a side-project. Jørn Lande was brought in for the debut recordings and Janne Warman was involved as a guest musician until Axel Mackenrott was found.

Jørn Lande left during the writing of Masterplan's third album due to musical differences. Uli Kusch also departed a few months later. Jørn's replacement Mike DiMeo left Masterplan in January 2009, and Jørn rejoined the band in April 2009. Lande left Masterplan again probably in 2011. Jan-S. Eckert rejoined Iron Savior.