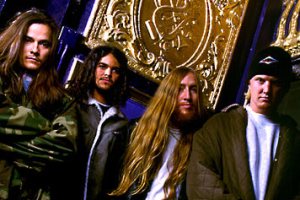 Kyuss
John Garcia

:

Vocals

(1991-1996)

Josh Homme

:

Guitars

(1991-1996)

Scott Reeder

:

Bass

(1992-1996)

Alfredo Hernández

:

Drums

(1994-1996)
Nick Oliveri

:

Bass

(1991-1992)

Brant Bjork

:

Drums

(1991-1994)
Releases : 5 Total votes : 0 Reviews : 0
Added by

이효권
Last edited by

SludgeLeader
Additional notes
Kyuss are considered by many to be "the fathers of stoner rock."

Started in 1987 as Katzenjammer, which later became Sons of Kyuss - a name taken from the game Dungeons & Dragons - under which they released an eponymous demo. After their bass player at the time Chris Cockrell left, Sons of Kyuss changed their name to simply Kyuss in the beginning of 1991.

After Kyuss split up in 1996, John Garcia and Scott Reeder went on to form Unida, and Josh Homme and Alfredo Hernandez formed Queens of the Stone Age, where they were later joined by Nick Oliveri.

In November 2010, the band (without Josh Homme) announced that they were reforming (under the name Kyuss Lives!) and toured throughout 2011 and 2012. However, when they revealed plans to also record with that name, Josh Homme filed a lawsuit to prevent them, and so they changed their name to Vista Chino after the Soundwave festival in 2013.