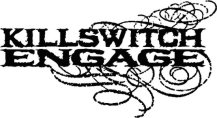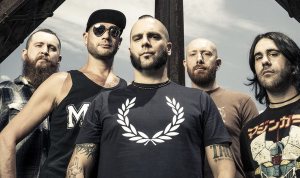 Killswitch Engage
Country

United States

Formed
1999,

Westfield, Massachusetts

Currently

Boston, Massachusetts, United States

Genres

Metalcore

Labels
Roadrunner Records
Mike D'Antonio

:

Bass

(1999-)

Adam Dutkiewicz

:

Drums

(1999-2002)

, Guitars, Backing Vocals

(2002-)

Joel Stroetzel

:

Guitars

(1999-)

Jesse Leach

:

Vocals

(1999-2002, 2012-)

Justin Foley

:

Drums

(2003-)
Pete Cortese

:

Rhythm Guitar

(2000-2001)

Tom Gomes

:

Drums

(2002-2003)

Howard Jones

:

Vocals

(2002-2011)
Releases : 10 Total votes : 1 Reviews : 0
Added by

dImmUholic
Last edited by

SludgeLeader
Killswitch Engage Discography
Additional notes
The band was formed in the wake of a few bands splitting up. Adam Dutkiewicz and Joel Stroetzel were previously in the metalcore band Aftershock where both played guitar. Mike D'Antonio was in the influential band Overcast with current Shadows Fall vocalist Brian Fair.

The band got their start and mainstream success by being the opening act for In Flames.

Jesse Leach left the band soon after their 2002 release, because he wanted to spend more time with family and he kept losing his voice after every live show. However, he went on to play in the alternative stoner metal band Seemless being as it's not as an extreme act as Killswitch Engage is. He rejoined Killswitch Engage in February 2012.

Howard Jones debuted as KsE's vocalist at the 2002 Hellfest in Syracuse, New York. Neither Howard nor Justin Foley intend to leave Blood Has Been Shed.

Adam Dutkiewicz originally was the drummer for the band. On the first full-length release, he played drums as well as providing additional guitars. On "Alive or Just Breathing," he not only did guitars, but provided drums as well. On the third album "The End of Heartache," he only stuck to guitar.

Adam Dutkiewicz has produced many metalcore albums for bands such as As I Lay Dying, Shadows Fall, Unearth, The Agony Scene, Cannae, The Acacia Strain, All That Remains, Norma Jean, From Autumn to Ashes, Johnny Truant, Every Time I Die, Underoath, as well as all Killswitch Engage albums.

The band has an exclusive song called "The Fire Burns" (3:05) on the 2006 compilation WWE: Wreckless Intent. This song was later released as a bonus track on "As Daylight Dies" with the title "This Fire". In addition to this track, the band also has another track that was never released via their discography titled "My Obsession." The track is featured on the "God of War: Blood and Metal EP", and was recorded during the "Killswitch Engage II" album sessions.

Mike d'Antonio has a design studio: Dark_Icon. He has done design for a lot of bands, including logos and artwork for albums, such: Unearth, All That Remains, Caliban, Heaven Shall Burn and many more. He also does the the design for Hellfest (USA).