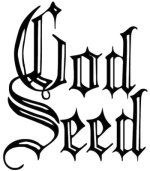 God Seed
Gaahl

:

Vocals

(2009, 2012-)

Sir

:

Guitars

(2012-)

Lust Kilman

:

Guitars

(2012-)

King Ov Hell

:

Bass

(2009, 2012-)

Baard Kolstad

:

Drums

(2015-)

Geir Bratland

:

Keyboards, Noise

(2012-)
Kenneth Kapstad

:

Drums

(2012-2015)
Releases : 3 Total votes : 0 Reviews : 0
Added by

SludgeLeader
Additional notes
God Seed was formed in March 2009 by Gaahl and King ov Hell following the court's conclusion of Gorgoroth's band name dispute.

An album was supposed to be released in 2009 during the Gorgoroth's name dispute. After Gaahl and King ov Hell lost the court battle, they intended to release the album as God Seed, taking the name from a Gorgoroth song.

The band existed from March 2009 to July 2009 before Gaahl left after he chose to retire from the metal scene. King took the songs intended for the first God Seed album to a new project called Ov Hell, with Shagrath replacing Gaahl as vocalist.

King and Gaahl reunited as God Seed in 2012.