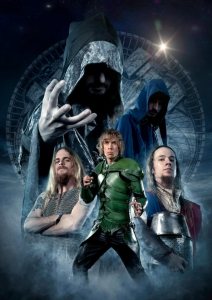 Gloryhammer
Thomas Winkler

:

Vocals

(2011-)

Paul Templing

:

Guitars

(2010-)

James Cartwright

:

Bass

(2010-)

Ben Turk

:

Drums

(2010-)

Christopher Bowes

:

Keyboards

(2010-)
Releases : 2 Total votes : 0 Reviews : 0
Added by

SludgeLeader
Additional notes
The band was formed by Christopher Bowes, lead singer and keyboardist of Alestorm.

Fictional line-up is as follows:
- Hootsman: Barbarian Warrior of Unst (James Cartwright): Bass
- Ralathor: The Mysterious Hermit of Cowdenbeath (Ben Turk): Drums
- Ser Proletius: Grand Master of the Templar Knights of Crail (Paul Templing): Guitars
- Zargothrax: Dark Sorcerer of Auchtermuchty (Christopher Bowes): Keyboards
- Angus McFife: Crown Prince of Dundee, Heir to the Kingdom of Fife (Thomas Winkler): Vocals

A demo was recorded in 2010 featuring a different vocalist and at least 3 tracks (The Unicorn Invasion of Dundee, Hail to Crail, Magic Dragon). It is unknown if this demo was ever released officially, but these three tracks were distributed on-line.