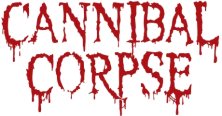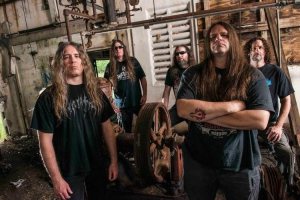 Cannibal Corpse
Country

United States

Formed
1988,

Buffalo, New York

Currently

Tampa, Florida, United States

Genres

Death Metal

Labels
Metal Blade Records
Alex Webster

:

Bass

(1988-)

Paul Mazurkiewicz

:

Drums

(1988-)

Rob Barrett

:

Guitars

(1993-1997, 2005-)

George "Corpsegrinder" Fisher

:

Vocals

(1995-)

Pat O'Brien

:

Guitars

(1997-)
Bob Rusay

:

Guitars

(1988-1993)

Jack Owen

:

Guitars

(1988-2004)

Chris Barnes

:

Vocals

(1988-1995)
Releases : 21 Total votes : 4 Reviews : 1
Added by

Eagles
Last edited by

SludgeLeader
Cannibal Corpse Discography
Best Cannibal Corpse Songs
Additional notes
Cannibal Corpse are considered to be an important name in the death metal genre, and they are one of its most commercially successful bands.

Alex Webster came up with the name for the band and describes a Cannibal Corpse as "an undead corpse that's going to eat you" in the Centuries of Torment DVD.

Chris Barnes was the vocalist, lyricist, and a large part of the creative force of the band on their first four albums. He was asked to leave the band because of increasingly poorer vocal performances and attitude issues, NOT because he spent too much time on his side project band Six Feet Under.

A common rumour regarding the original logo is that Chris Barnes, the one who drew the logo, claims to have rights to its use, and following his departure from the band, a new logo was designed. This is also why newer reissues of the albums featuring Chris Barnes often have the newer logo on them than the original logo from the albums.

Because of various complaints from teachers and parents who claimed Cannibal Corpse would be dangerous to children, the band had not been allowed to play any song from the first three albums live in Germany until the ban was officially lifted in June 2006.

Nevertheless several releases are still indexed / banned by the German "Federal Department for Media Harmful to Young Persons". The records Eaten Back to Life, Tomb of the Mutilated, Hammer Smashed Face and Worm Infested are considered harmful to minors and may not been sold to them. Butchered at Birth, Created to Kill and Evisceration Plague are prohibited and may not been sold at all.

The band make a cameo appearance in the movie Ace Ventura: Pet Detective. They appear in the scene where Ace goes to meet Woodstock, on stage playing the song "Hammer Smashed Face", and again in an extended scene in which a shirtless Ace, running from security, leaps onstage, performs a few lines from the song and crowd-surfs out of the venue. However, due to the explicit lyrics in the song, television captions shows then-lead singer Chris Barnes singing "grr!" over and over. The band is also incorrectly listed in the credits as "Cannibal Corpses", and that they are a "thrasher band". Despite rumors that Jim Carrey personally requested Cannibal Corpse be included in the movie, according to his son-in-law Alex Santana, Jim Carrey does not like death metal and never heard of Cannibal Corpse until making the movie. The scene can be seen here.

There is a parody band of Cannibal Corpse, Cannabis Corpse.