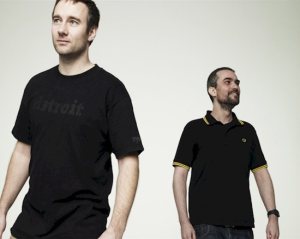 Autechre
a.k.a.
Ae, æ, Lego Feet
Country

United Kingdom

Formed
1987,

Rochdale, Greater Manchester

Genres

IDM

,

Ambient Techno

,

Experimental

,

Electronic

,

Hip Hop

,

Glitch Hop

Labels
Warp Records, Skam, Wax Trax! Records, TVT Records, Nothing Records
Sean Anthony Booth

:

Member

Robert John Brown

:

Member
Releases : 24 Total votes : 0 Reviews : 0
Added by

Pop-Tarts
Additional notes
Artist Biography by Sean Cooper

Like Aphex Twin, Autechre were about as close to being experimental techno superstars as the tenets of their genre and the limitations of their audience allowed. Through a series of full-length works and a smattering of EPs on Warp, Clear, and their own Skam label, Autechre consistently garnered the praise of press and public alike. Unlike many of their more club-bound colleagues, however, Autechre's Sean Booth and Rob Brown had roots planted firmly in American electro, and though the more mood-based, sharply digital texture of their update seemed to speak otherwise, it was through early 12"s like Egyptian Lover's "Egypt, Egypt," Grandmaster Flash's "Scorpio," and "Pretty" Tony Butler's "Get Some" that their combined aesthetic began to form.

IncunabulaBooth and Brown met through a mutual friend, trading junked-up pause-button mixtapes of their favorite singles back and forth. Happening onto some bargain-basement analog gear through questionable circumstances, the pair began experimenting with their own music before they were out of high school. After some disastrous experiences with a few small labels, the pair sent a tape off to Warp Records, whose early releases by Sweet Exorcist, Nightmares on Wax, and B12 were announcing a new age in U.K.-based techno (and one in which Autechre would become a key component). Releasing a handful of early singles through the label, Autechre's first stabs were collected on their debut full-length, Incunabula, as well as the 10" box set remix EP Basscadet.

Tri RepetaeIncunabula, as well as subsequent Autechre albums, reached a wider audience through stateside licensing, first through Wax Trax!/TVT, also home to the duo's 1995 masterpiece Tri Repetae. LP5, released in 1998, appeared in the U.S. through a deal with Trent Reznor's Interscope subsidiary Nothing. All that followed came through a stateside branch of Warp. Although stylistically rooted, affectations for the ponderous extended beyond their name and track titles ("C/Pach," "Bronchusevenmx24," etc.), with the basic premise of their approach being DSP'ed-to-death hyper-programming and little stylistic baggage. Albums throughout the 2000s and early 2010s, highlighted by the relatively accessible Quaristice (2008), the more experimental Oversteps (2010), and the generous two-hour set Exai (2013), were not as groundbreaking, yet Autechre retained one of the most distinctive sounds -- as well as one of the most fascinating artistic progressions -- in electronic music.

In addition to Autechre, Booth and Brown released material as Gescom on their own Skam imprint and through the Clear label, most notably the Sounds of Machines Our Parents Used EP on the latter. The group also provided a number of memorable remixes (oftentimes more memorable than the original material) for artists including Palmskin Productions, Slowly, Mike Ink, DJ Food, Scorn, Skinny Puppy, Tortoise, Phoenecia, Various Artists, the Black Dog, Apparat, and the Bug.