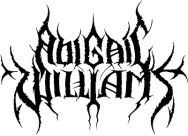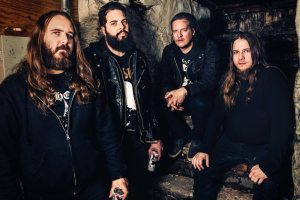 Abigail Williams
Ken Sorceron

:

Guitars, Vocals

(2004-)

Ian Jekelis

:

Lead Guitar

(2009-)

Jeff Wilson

:

Bass

(2013)

, Guitars

(2013-)

Will Lindsay

:

Bass

(2014-)

Charlie Fell

:

Drums

(2014-)
Ashley "Ellyllon" Jurgemeyer

:

Keyboards

(2004-2007, 2007-2008, 2012-2013)

Mark Kozuback

:

Bass

(2005-2006)

Brad Riffs

:

Guitars

(2005-2006)

Bjorn "Bjornthor" Dannov

:

Guitars

(2005-2007, 2008-2009)

Connor Woods

:

Vocals

(2005-2006)

Kyle Dickinson

:

Bass

(2006)

Zach Gibson

:

Drums

(2006-2007, 2007, 2011-2012)

Andy Schroeder

:

Drums

(2006)

Michael Wilson

:

Guitars

(2006-2007, 2007-2009)

Thomas G. Plaguehammer

:

Bass

(2007-2009)

Kristen Randall

:

Keyboards

(2007)

Samus Paulicelli

:

Drums

(2008-2009)

Ken Bedene

:

Drums

(2009-2011)

Alana Potocnik

:

Keyboards

(2009)

Griffin Wotawa

:

Bass

(2011-2012)

Alan Cassidy

:

Drums

(2011-2012)

Bryan O' Sullivan

:

Bass

(2012-2013)

James Jungmann

:

Bass

(2012)
Releases : 8 Total votes : 0 Reviews : 0
Added by

SludgeLeader
Abigail Williams Discography
Additional notes
The band originally formed in Phoenix, Arizona, but soon moved to New York City, then Los Angeles, and is now based out of Olympia, Washingon.

The band's name comes from a girl of the same name who played a significant role in the Salem Witch Trials of 1692 and was depicted as the central antagonist in the play The Crucible by Arthur Miller.

Abigail Williams broke up for a short time soon after the release of the "Legend" EP, during the constant split of members, then officially reformed with an all new line-up except Ken Sorceron, moving from Tempe, Arizona to the Cleveland/Detroit area. During this time, Ashley Jurgemeyer was replaced by Kristen Randall (ex-Winds of Plague). A short while later, the band dropped all its new members and was rejoined by Ellyllon. Bassist Tommy Harwood Jr. (of the band Plaguehammer), also rejoined the fold soon after. The band also relocated again to New York City.

In May 2008, Ken Sorceron announced that Abigail Williams had finally become a full band again with 6 permanent members, including the newest addition on drums, Sam Paulicelli from Mutiny Within. Ellyllon parted ways with the band once again Fall 2008 to pursue other musical interests including her solo classical project, her other band Orbs, and playing on a tour for Cradle of Filth for became finally a session member of they.

The band recruited Alana Potocnik (Winds of Plague, ex-The Breathing Process), as a Ashley's replacement but she short left to join Winds of Plague. Again they suffered an important split of members, including former guitarists Bjorn Dannov and Mike Wilson. In 2009 the band welcomes Ken Bedene on drums, Ian Jeckelis on guitars and Tristan McCann (Oceano) on bass. This last left short time ago and they decided to continue as a three-piece switching Ken Bedene from drums to bass. The second album "In the Absence of Light" shows a total change into a Black Metal band. Sorceron is also playing guitar as a full-time member for Aborted meanwhile Ian Jeckelis are doing the same for God Dethroned.