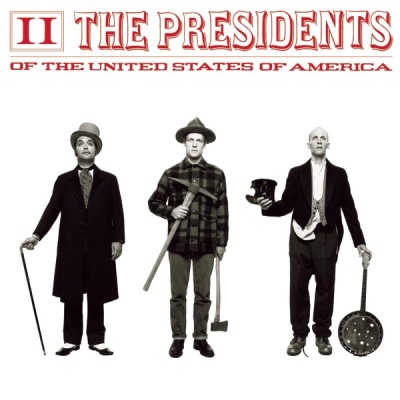 II
Reviews : 0
Comments : 0
Total votes : 0
Rating : -
Have : 0
Want : 0
Added by

PopRock
| | Title | Length | Rating | Votes |
| --- | --- | --- | --- | --- |
| 1. | Ladies and Gentlemen, Part 1 | 1:39 | - | 0 |
| 2. | Lunatic to Love | 2:57 | - | 0 |
| 3. | Volcano | 2:58 | - | 0 |
| 4. | Mach 5 | 3:15 | - | 0 |
| 5. | Twig | 2:37 | - | 0 |
| 6. | Bug City | 3:05 | - | 0 |
| 7. | Bath of Fire | 2:57 | - | 0 |
| 8. | Tiki God | 2:58 | - | 0 |
| 9. | L.I.P. | 3:20 | - | 0 |
| 10. | Froggie | 3:10 | - | 0 |
| 11. | Toob Amplifier | 1:22 | - | 0 |
| 12. | Supermodel | 2:49 | - | 0 |
| 13. | Puffy Little Shoes | 4:59 | - | 0 |
| 14. | Ladies and Gentlemen, Part 2 | 3:03 | - | 0 |
| 15. | Basketball Dream (hidden track) | 0:55 | - | 0 |
Chris Ballew

:

Basitar, Bass, Lead Vocals, Keyboards

Dave Dederer

:

Guitbass, Guitar, Background Vocals

Jason Finn

:

Drums, Percussion, Background Vocals
Guest / session musicians
Dave Thiele

Tony Ballew

:

Baby Voice on "Basketball Dream"

Mark Sandman

:

Tritar on "Froggie"
Production staff / artist
S. Craig Montgomery

:

Co-producing, Engineering

Wally Traugott

:

Mastering

Lance Mercer

:

Photography

Jerry Finn

:

Mixing

Doug Erb

:

Art Directing

Tom Smurdon

:

Assistant Engineering
Additional notes
"Basketball Dream" features a boy, Tony Ballew (a relative of Chris Ballew), describing a dream he had about Magic Johnson - for this reason, the track is often mislabeled "Magic Johnson Dream". Chris Ballew can be heard faintly whispering the lyrics underneath the boy. The recording of Tony's voice, with a different musical backing, previously appeared on Feel Good, an album by Ballew's pre-PUSA band Egg, in 1987.
The Presidents of the United States of America Discography