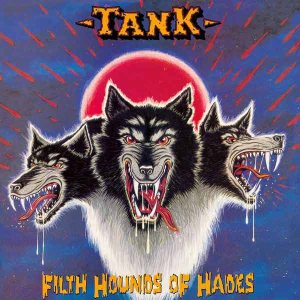 Filth Hounds of Hades
Artist
Type
Studio Full-length
Released

1982-03

Genres

NWOBHM

,

Heavy Metal

Labels
Kamaflage, DJM Records
Length
38:25
Reviews : 0
Comments : 0
Total votes : 0
Rating : -
Added by

SludgeLeader
Last edited by

SludgeLeader
Filth Hounds of Hades Information
| | Title | Length | Rating | Votes |
| --- | --- | --- | --- | --- |
| 1. | Shellshock | 3:10 | - | 0 |
| 2. | Struck by Lightning | 3:10 | - | 0 |
| 3. | Run like Hell | 3:40 | - | 0 |
| 4. | Blood, Guts and Beer | 3:42 | - | 0 |
| 5. | That's What Dreams Are Made of | 5:32 | - | 0 |
| 6. | Turn Your Head Around | 3:25 | - | 0 |
| 7. | Heavy Artillery | 3:28 | - | 0 |
| 8. | Who Needs Love Songs? | 3:05 | - | 0 |
| 9. | Filth Hounds of Hades | 3:56 | - | 0 |
| 10. | (He Fell in Love with a) Stormtrooper | 5:17 | - | 0 |
Algy Ward

:

Bass, Vocals

Peter Brabbs

:

Guitars

Mark Brabbs

:

Drums
Production staff / artist
Eddie Clarke

:

Producer

Will Reid-Dick

:

Engineering

Neil Hornby

:

Tape Operator

Jo Mirowski

:

Cover Design

Brett Ewins

:

Illustration
Additional notes
Recorded at Ramport Studios, London, December 1981 - January 1982.

All songs by Tank (A.Ward , P.Brabbs & M. Brabbs).

Initial copies came with a free 7":
1. Don't Walk Away (live)
2. The Snake (Pink Fairies cover)

The Attic Records pressing had an alternate blue cover with the dogs in maroon and with a different logo.