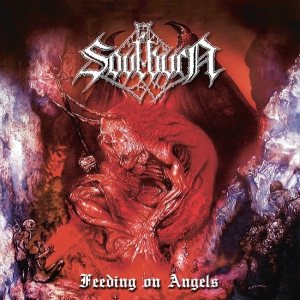 Feeding on Angels
Reviews : 0
Comments : 0
Total votes : 0
Rating : -
Have : 0
Want : 0
Added by

SludgeLeader
Feeding on Angels Information
| | Title | Length | Rating | Votes |
| --- | --- | --- | --- | --- |
| 1. | Enter the Flames of Soulburn (Intro) | 1:16 | - | 0 |
| 2. | Hellish Entrapment | 7:36 | - | 0 |
| 3. | Crypts of the Black | 4:02 | - | 0 |
| 4. | Hymn of the Forsaken | 5:02 | - | 0 |
| 5. | Feeding on Angels | 7:43 | - | 0 |
| 6. | Storming Hordes | 5:26 | - | 0 |
| 7. | Throne of Hatred | 3:32 | - | 0 |
| 8. | Behold the Funeral Candle | 5:49 | - | 0 |
| 9. | ...the Flames of Soulburn | 0:50 | - | 0 |
Wannes Gubbels

:

Bass, Vocals

Eric Daniels

:

Guitars

Bob Bagchus

:

Drums
Production staff / artist
Axel Hermann

:

Cover Art

Wannes Gubbels

:

Lyrics

Harry Wijering

:

Engineering, Mixing

Christophe Szpajdel

:

Logo
Additional notes
All songs Recorded & Mixed at Harrow Production Studio Losser HOLLAND
Engineered & Mixed by Harry Wijering during Late Dec 1996 & Jan 1998
Mastered at DMS GERMANY

Vocals recorded on Friday the 13th during the Full Moon

Music: Eric Daniels & Bob Bagchus, Lyrics: Wannes Gubbels

The album was only released in Europe, all copies found in America were imports.

The Picture Disc LP was limited to 750 copies.

Re-released by Century Media in 2009 with seven rehearsal bonus tracks, and lyrics now printed in the booklet.