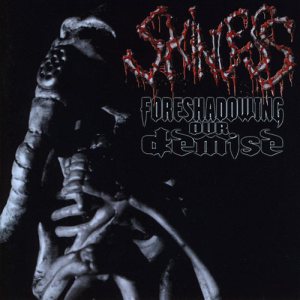 Foreshadowing Our Demise
| | |
| --- | --- |
| Artist | |
| Type | Studio Full-length |
| Released | 2001-04-23 |
| Genres | Brutal Death Metal |
| Labels | Relapse Records |
| Length | 40:54 |
Reviews : 0
Comments : 0
Total votes : 0
Rating : -
Have : 0
Want : 0
Added by

SludgeLeader
Foreshadowing Our Demise Information
| | Title | Length | Rating | Votes |
| --- | --- | --- | --- | --- |
| 1. | Foreshadowing Our Demise | 3:56 | - | 0 |
| 2. | Smothered | 5:34 | - | 0 |
| 3. | The Optimist | 5:43 | - | 0 |
| 4. | Salvage What's Left | 3:43 | - | 0 |
| 5. | Tug of War Intestines | 3:16 | - | 0 |
| 6. | Affirmation of Hatred | 5:17 | - | 0 |
| 7. | Enslavement | 5:52 | - | 0 |
| 8. | Merrie Melody | 3:37 | - | 0 |
| 9. | Pool of Stool | 3:56 | - | 0 |
S. Webber

:

Vocals, Additional Percussion, Noise

Noah Carpenter

:

Guitars

Joe Keyser

:

Bass

Bob Beaulac

:

Drums
Guest / session musicians
Akim

:

Live Samples

Greg Kennedy

:

Backing Vocals on Track 5
Production staff / artist
Noah Carpenter

:

Mixing

Bret(t) Portzer

:

Engineering, Mixing

Matthew Jacobson

:

Executive Producer

Ryan Wade

:

Additional Musical and Lyrical Contributions

S. Webber

:

Design, Producer, Mixing

Alicia Zumback

:

Photography

Ira Martin

:

Artwork

R.C. Van

:

Logo (goreified)

Adam Lewis

:

Logo, Additional Songwriting, Additional Lyrics

Paul Benedetti

:

Mastering
Additional notes
Recorded in the fall of 2000 at Max Trax Studios, Albany, NY.
Also mastered there.

Limited red vinyl also available released by Soul Reaper records.

The "Merrie Melody" lyrics were intentionally not included n the booklet. It read that you had to go to the Skinless website in order to find out what the lyrics are about. According to Skinless, this was done in order to get more people to check out their website being they knew that not many people would bother checking out their site. Also in the book, it has a * next to tracks 5 and 9, reading "Tracks indicated as humor. They are a reminder not to take everything seriously in the kind of world we live in."

The song "The Optimist" contains a audio clip of WWF/E owner Vince Mcmahon from an episode of Smackdown.