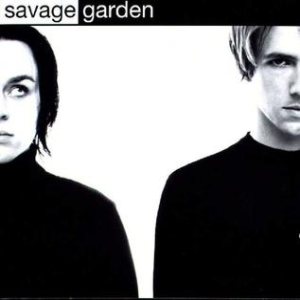 Savage Garden
Artist
Type
Studio Full-length
Released

1997-03-04

Genres

Pop

,

Pop Rock

Labels
Columbia Records, Village Roadshow
Length
49:44
Reviews : 0
Comments : 0
Total votes : 0
Rating : -
Have : 0
Want : 0
Added by

PopRock
Savage Garden Information
Title
Length
Rating
Votes
1.

To the Moon and Back (Radio Edit)

5:09
-
0
2.

Carry on Dancing

3:45
-
0
3.

Tears of Pearls

3:46
-
0
4.

I Want You

3:52
-
0
5.

Truly Madly Deeply (original Australian version)

4:37
-
0
6.

Violet

4:04
-
0
7.

All Around Me

4:11
-
0
8.

Universe

4:20
-
0
9.

A Thousand Words

4:00
-
0
10.

Break Me Shake Me

3:23
-
0
11.

Mine

4:30
-
0
12.

Santa Monica

3:37
-
0
International release (1998)
1.

To the Moon and Back

5:41
-
0
2.

I Want You

3:52
-
0
3.

Truly Madly Deeply (international version)

4:37
-
0
4.

Tears of Pearls

3:46
-
0
5.

Universe

4:20
-
0
6.

Carry on Dancing

3:45
-
0
7.

Violet

4:04
-
0
8.

Break Me Shake Me

3:23
-
0
9.

A Thousand Words

4:00
-
0
10.

Promises

3:31
-
0
11.

Santa Monica

3:37
-
0
Darren Hayes

:

Lead and Background Vocals

Daniel Jones

:

Keyboards, Sequencing, Lead and Rhythm Guitars and Vocals
Guest / session musicians
Terapai Richmond

:

Drums, Percussion

Alex Hewitson

:

Bass

Rex Goh

:

Guitars
Production staff / artist
Jackie Orzaczky

:

Strings Orchestration and Conducting

Written

:

Darren Hayes and Daniel Jones.

Produced

:

Charles Fisher Except "Santa Monica", Which Is Produced By Savage Garden.

Vocals Arranged

:

Darren Hayes, Charles Fisher and Jim Bonnefond.

Strings Arranged

:

Daniel Jones.

Mixed

:

Chris Lord-Alge Except "Truly Madly Deeply", "Tears of Pearls" and "Universe", Which Were Mixed By Mike Pela and "Santa Monica" Which Was Mixed By Oliver Jones.

Mastered

:

Vlado Meller.

Album Cover and Inside Photography of the Garden of Earthly Delights

:

Yelena Yemchuk.

Design

:

Aimee Macauley.
Additional notes
Japanese bonus track (1998)
11. Mine (4:30)

Asian Tour Edition bonus disc (1999)
1. Mine (4:30)
2. Love Can Move You (4:47)
3. All Around Me (4:11)
4. I'll Bet He Was Cool (3:58)
5. I Want You (Xenomania Funky Mix) (4:34)
6. To the Moon and Back (Hani's Num Radio Edit) (3:57)
7. Truly Madly Deeply (Original Australian Version) (4:37)
8. Break Me Shake Me (Broken Mix) (4:18)

Expanded Edition 2015 (Disc 2)
1. I Want You (live at London Radio)
2. Truly Madly Deeply (live at London Radio)
3. To the Moon and Back (live at ARIA Awards)
4. I Want You (live acoustic)
5. Break Me Shake Me (live acoustic)
6. I Want You (Jason Nevins Radio Remix)
7. I Want You (Hot Radio Mix)
8. To the Moon and Back (Fly A Pell)
9. To the Moon and Back 2004 (Almighty Club Class Mix)

B-sides
1. Promises – B-side to "I Want You" and "Truly Madly Deeply", included on the international version of the album
2. Mine (later subtitled as "Mine (And You Could Be)") – B-side to "I Want You", included on the album in Australia, and the bonus remix disc in Asia
3. All Around Me – B-side to "To the Moon and Back", included on the album in Australia, and the bonus remix disc in Asia
4. Fire Inside the Man – B-side to "I Want You"
5. Memories Are Designed to Fade – B-side to "To the Moon and Back"
6. This Side of Me – B-side to "Truly Madly Deeply" and "Universe"
7. Love Can Move You – B-side to "Truly Madly Deeply", "Universe" and "Tears of Pearls", included on the bonus remix disc in Asia
8. I'll Bet He Was Cool – B-side to "Truly Madly Deeply" and "Break Me Shake Me", included on the bonus remix disc in Asia
Savage Garden Discography
Album title
Type
Released
Rating
Votes
Reviews
▶

Savage Garden

(1997)

Studio

1997-03-04

-
0
0

Affirmation

(2000)

Studio

2000-11-29

-
0
0