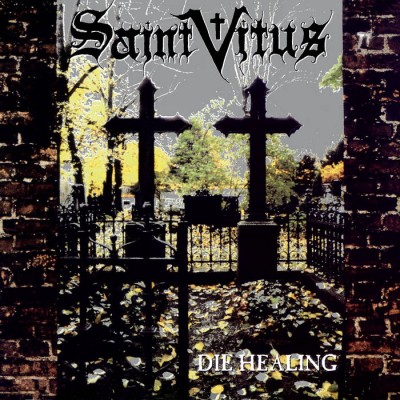 Die Healing
| | |
| --- | --- |
| Artist | |
| Type | Studio Full-length |
| Released | 1995-04-09 |
| Genres | Doom Metal |
| Labels | Hellhound Records |
| Length | 49:53 |
Reviews : 0
Comments : 0
Total votes : 0
Rating : -
Have : 0
Want : 0
Added by

SchoolMeal
Last edited by

SludgeLeader
| | Title | Length | Rating | Votes |
| --- | --- | --- | --- | --- |
| 1. | Dark World | 4:57 | - | 0 |
| 2. | One Mind | 4:34 | - | 0 |
| 3. | Let the End Begin | 7:36 | - | 0 |
| 4. | Trail of Pestilence | 5:11 | - | 0 |
| 5. | Sloth | 8:11 | - | 0 |
| 6. | Return of the Zombie | 6:42 | - | 0 |
| 7. | In the Asylum | 8:12 | - | 0 |
| 8. | Just Another Notch | 4:30 | - | 0 |
Dave Chandler

:

Guitars, Vocals (track 8)

Scott Reagers

:

Vocals

Mark Adams

:

Bass

Armando Acosta

:

Drums
Production staff / artist
Vogel de Garcia

:

Photography

Harris Johns

:

Producer, Engineer

Saint Vitus

:

Producer
Additional notes
Recorded at Music Lab. Berlin, October-November 1994.
All songs written by D. Chandler and arranged by Saint Vitus.

An album's worth of unreleased material was written (and scrapped), before Saint Vitus started writing for "Die Healing", as a trio, with Dave Chandler on vocals. Scott Reagers was then convinced to return, on the premise that this would be their final album and tour, to "bring things full circle". The already written material was slightly adapted to a style more fitting for Reagers and they flew to Germany to record it. Reagers, however, quit the band again 10 days into the subsequent tour, leaving the band to cancel the remaining dates and split unceremoniously.

According to Dave Chandler, this is Saint Vitus' "best produced album" of their first run. He picked producer Harris Johns based on his work with Sodom.