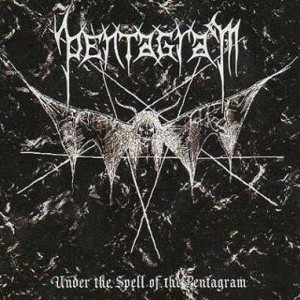 Under the Spell of the Pentagram
Reviews : 0
Comments : 0
Total votes : 0
Rating : -
Have : 0
Want : 0
Added by

realemopolice
Under the Spell of the Pentagram Information
Title
Length
Rating
Votes
Disc 1 (CD)
1.

Fatal Predictions

5:07
-
0
2.

Demoniac Possession

4:10
-
0
3.

Spell of the Pentagram

6:20
-
0
4.

The Malefice

4:18
-
0
5.

Profaner

6:02
-
0
6.

Temple of Perdition

6:19
-
0
7.

Demoniac Possession (Live)

4:25
-
0
8.

Profaner (Live)

5:57
-
0
Disc 2 (DVD)
1.

Spell of the Pentagram

7:36
-
0
2.

The Malefice

4:43
-
0
3.

Fatal Predictions

5:02
-
0
4.

Raining Blood (Slayer cover)

3:17
-
0
5.

Countess Bathory (Venom cover)

3:35
-
0
6.

Temple of Perdition

6:51
-
0
7.

Pigs

1:26
-
0
8.

Demented

5:33
-
0
9.

Profaner

8:01
-
0
10.

Demoniac Possession

6:10
-
0
11.

Demoniac Possession

4:40
-
0
12.

Fatal Predictions

4:51
-
0
13.

Temple of Perdition

5:34
-
0
14.

The Malefice

4:57
-
0
15.

Profaner

5:49
-
0
16.

Pigs

0:44
-
0
17.

Spell of the Pentagram

6:06
-
0
18.

The Malefice

4:30
-
0
19.

Demoniac Possession

4:25
-
0
20.

Pigs

1:02
-
0
21.

Temple of Perdition

5:47
-
0
22.

Profaner

5:43
-
0
23.

Demoniac Possession

4:31
-
0
24.

Fatal Prediction

4:50
-
0
25.

Untitled Easter Egg

7:32
-
0
Additional notes
The CD (disc 1) includes the two 1987 demos and two live tracks from the same year.

The DVD (disc 2) includes live shows from 1987 plus a reunion show from 2001.
Tracks 1-10 recorded at the Teatro Providencia on May 27th, 2001. Tracks 11-25 recorded at the Manuel Plaza on a number of occassions in 1987.

The set comes in a digipak case and includes a thick 20-page booklet withphotos, lyrics, and liner notes from founding band member Anton Reisenegger plus longtime fans Mitch Harris (Napalm Death) and Nicke Andersson (Death Breath, The Hellacopters, ex-Entombed).
Pentagram Chile Discography