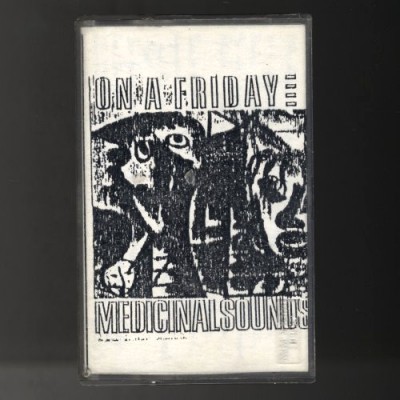 Medicinal Sounds
Reviews : 0
Comments : 0
Total votes : 0
Rating : -
Have : 0
Want : 0
Added by

휘루
Medicinal Sounds Information
| | Title | Length | Rating | Votes |
| --- | --- | --- | --- | --- |
| 1. | Fragile Friend | | - | 0 |
| 2. | Mr Celebrate | | - | 0 |
| 3. | Stone | | - | 0 |
| 4. | Sweet Justice | | - | 0 |
| 5. | Letter for Upstairs | | - | 0 |
| 6. | Fat Girl | | - | 0 |
| 7. | To Be a Brilliant Light | | - | 0 |
| 8. | A Cigarette | | - | 0 |
| 9. | For God's Sake | | - | 0 |
| 10. | Down the Roof | | - | 0 |
| 11. | Everybody Knows | | - | 0 |
| 12. | When You Get to Rio | | - | 0 |
| 13. | What You Don't Know | | - | 0 |
| 14. | Talk About It | | - | 0 |
| 15. | Cardigan | | - | 0 |
Raz Petersen

:

Alto Saxophone, Tenor Saxophone

Colin Greenwood

:

Bass

Phil Selway

:

Drums, Vocals

Ed O'Brien

:

Guitars, Vocals

Tom Yorke

:

Vocals, Acoustic Guitar, Piano, Synth
Additional notes
This album was produced & written by the band with Calvin & Nigel helping.

1st 4 recorded at Union Street Studios in Oxford.
The rest were recorded at Sphincter Studios in Marcham.

The tape has standard TDK inlay with details handwritten by Thom Yorke, plus a photocopied designed inlay wrapped around it.

The label name is given as 'O.A.Funtime Records' on both inlays.
The release date given on the handwritten inlay.