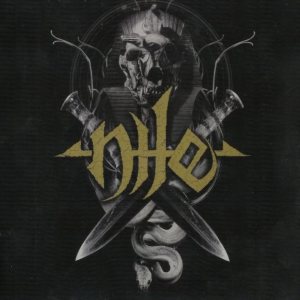 Legacy of the Catacombs
Reviews : 0
Comments : 0
Total votes : 0
Rating : -
Have : 0
Want : 0
Added by

SludgeLeader
Legacy of the Catacombs Information
| | Title | Length | Rating | Votes |
| --- | --- | --- | --- | --- |
| 1. | Cast Down the Heretic | 5:45 | - | 0 |
| 2. | Sacrifice Unto Sebek | 3:03 | - | 0 |
| 3. | Lashed to the Slave Stick | 4:18 | - | 0 |
| 4. | Execration Text | 2:47 | - | 0 |
| 5. | Sarcophagus | 5:10 | - | 0 |
| 6. | Unas, Slayer of the Gods | 11:43 | - | 0 |
| 7. | Masturbating the War God | 5:41 | - | 0 |
| 8. | Chapter For Transforming Into A Snake | 2:26 | - | 0 |
| 9. | Black Seeds of Vengeance | 3:36 | - | 0 |
| 10. | The Howling of the Jinn | 2:21 | - | 0 |
| 11. | Barra Edinazzu | 2:47 | - | 0 |
| 12. | Smashing the Antiu | 2:18 | - | 0 |
Additional notes
This compilation contains a collection of band and fan favorites. It also includes a DVD with the band's videos;
1. Execration Text
2. Sarcophagus
3. Sacrifice Unto Sebek


Tracks 1-3 from "Annihilation of the Wicked"
Tracks 4-6 from "In Their Darkened Shrines"
Tracks 7-9 from "Black Seeds of Vengeance
Tracks 10-12 from "Amongst the Catacombs of Nephren-Ka"