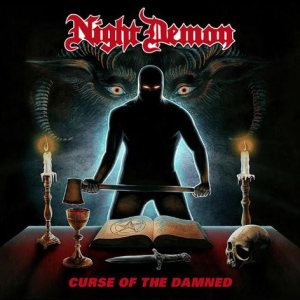 Curse of the Damned
| | |
| --- | --- |
| Artist | |
| Type | Studio Full-length |
| Released | 2015-01-14 |
| Genres | Heavy Metal |
| Labels | Steamhammer, Century Media Records |
| Length | 44:03 |
Reviews : 0
Comments : 0
Total votes : 0
Rating : -
Have : 0
Want : 0
Added by

SludgeLeader
Curse of the Damned Information
| | Title | Length | Rating | Votes |
| --- | --- | --- | --- | --- |
| 1. | Screams in the Night | 3:29 | - | 0 |
| 2. | Curse of the Damned | 4:58 | - | 0 |
| 3. | Satan | 3:02 | - | 0 |
| 4. | Full Speed Ahead | 2:36 | - | 0 |
| 5. | The Howling Man | 6:47 | - | 0 |
| 6. | Heavy Metal Heat | 3:04 | - | 0 |
| 7. | Livin' Dangerous | 4:30 | - | 0 |
| 8. | Mastermind | 4:06 | - | 0 |
| 9. | Run for Your Life | 3:04 | - | 0 |
| 10. | Killer | 3:12 | - | 0 |
| 11. | Save Me Now | 5:15 | - | 0 |
Jarvis Leatherby

:

Vocals, Bass

Brent Woodward

:

Guitars

Dustin Squires

:

Drums
Guest / session musicians
Owen Bucey

:

Keyboards (track 11)

Jonathan Rubio

:

Backing Vocals (tracks 1, 6, 9, 10)

Carlos Gutierrez

:

Backing Vocals (tracks 1, 6, 9, 10)
Production staff / artist
Donry Phillips

:

Cover Art, Design

Paul Miner

:

Mastering

Roger Camero

:

Producer, Recording, Mixing

Armand Tambouris

:

Producer

James Dufresne

:

Artwork
Additional notes
Recorded and mixed at Bright Mountain in Keene, CA, United States and Bright Light Studios in Santa Ana, CA, United States, August 22-30, 2014.
Mastered at Buzzbomb Sound Labs in Orange, CA, United States.

Release dates:
• January 14th, 2015 - Scandinavia
• January 16th, 2015 - Germany
• January 19th, 2015 - Europe
• January 27th, 2015 - Rest of world, United States

This album is the soundtrack to the non-motion-picture graphic novel "Blood Sacrifice".