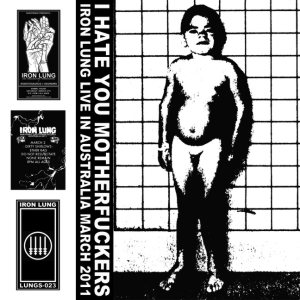 I Hate You Motherfuckers - Live in Australia
Reviews : 0
Comments : 0
Total votes : 0
Rating : -
Have : 0
Want : 0
Added by

SchoolMeal
I Hate You Motherfuckers - Live in Australia Information
| | Title | Length | Rating | Votes |
| --- | --- | --- | --- | --- |
| 1. | Stone Hands | | - | 0 |
| 2. | Rehabilitation | | - | 0 |
| 3. | Final Say | | - | 0 |
| 4. | Wet Cough | | - | 0 |
| 5. | Future Corpses | | - | 0 |
| 6. | Autojector | | - | 0 |
| 7. | Nails | | - | 0 |
| 8. | Arc Lamp | | - | 0 |
| 9. | Pig Hands | | - | 0 |
| 10. | Nothing | | - | 0 |
| 11. | Lost Appeal | | - | 0 |
| 12. | When I Die | | - | 0 |
| 13. | Sick Child | | - | 0 |
| 14. | Sexless No Sex | | - | 0 |
| 15. | Lost Appeal | | - | 0 |
| 16. | Stone Hands | | - | 0 |
| 17. | Rehabilitation | | - | 0 |
| 18. | Arc Lamp | | - | 0 |
| 19. | Pig Hands | | - | 0 |
| 20. | Cauterization | | - | 0 |
| 21. | Paralyzed Words | | - | 0 |
| 22. | Future Corpses | | - | 0 |
| 23. | Sexless No Sex | | - | 0 |
| 24. | Cancer | | - | 0 |
| 25. | White Flag | | - | 0 |
| 26. | Rate Of Respiration | | - | 0 |
| 27. | Prison Medical Officer | | - | 0 |
| 28. | Politics Of Science | | - | 0 |
| 29. | Stone Hands | | - | 0 |
| 30. | Lost Appeal | | - | 0 |
| 31. | Nails | | - | 0 |
| 32. | Arc Lamp | | - | 0 |
| 33. | Final Say | | - | 0 |
| 34. | Autorejector | | - | 0 |
| 35. | Rehabilitation | | - | 0 |
| 36. | Magnetic Resonance | | - | 0 |
| 37. | Paralyzed Words | | - | 0 |
| 38. | Nothing | | - | 0 |
| 39. | Sick Child | | - | 0 |
| 40. | Future Corpses | | - | 0 |
| 41. | Sexless No Sex | | - | 0 |
Additional notes
Limited cassette release of 150 copies.
Recorded live over the course of three shows in Australia during March of 2011.

Tracks 1-14 recorded on March 1, 2011 in Newcastle at the Croation Club.
Tracks 15-28 recorded in Sydney at Dirty Shirlows, Tracks 29-41 recorded in Adelaide at the Animal House.