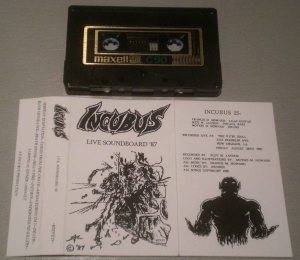 Live Soundboard '87
Reviews : 0
Comments : 0
Total votes : 0
Rating : -
Have : 0
Want : 0
Added by

SludgeLeader
Live Soundboard '87 Information
| | Title | Length | Rating | Votes |
| --- | --- | --- | --- | --- |
| 1. | Serpent Temptation (live) | 3:21 | - | 0 |
| 2. | Voices from the Grave (live) | 3:11 | - | 0 |
| 3. | Armageddon Day (live) | 5:57 | - | 0 |
| 4. | Death (live) | 2:18 | - | 0 |
| 5. | Blind Vengeance (live) | 4:01 | - | 0 |
| 6. | Death House (live) | 4:20 | - | 0 |
| 7. | Hell's Fire (live) | 4:33 | - | 0 |
| 8. | Incubus (live) | 4:05 | - | 0 |
| 9. | Underground Killers (live) | 5:10 | - | 0 |
| 10. | Sadistical Sinner (live) | 5:06 | - | 0 |
| 11. | Assault (live) | 3:34 | - | 0 |
| 12. | Battle of Armageddon | 6:07 | - | 0 |
| 13. | Voices from the Grave | 3:20 | - | 0 |
| 14. | Sadistic Sinner | 4:46 | - | 0 |
| 15. | Incubus | 4:04 | - | 0 |
| 16. | Blaspheming Prophets | 5:19 | - | 0 |
| 17. | Hunger for Power | 5:25 | - | 0 |
| 18. | Serpent Temptation | 3:32 | - | 0 |
| 19. | Underground Killers | 4:36 | - | 0 |
Francis M. Howard

:

Vocals

Scot W. Latour

:

Bass, Vocals

Moyses M. Howard

:

Drums
Production staff / artist
Moyses M. Howard

:

Artwork

Scot W. Latour

:

Mixing
Additional notes
Released in 1987, around the time of their first demo "Supernatural Death", and contains several other songs which were not featured on the demo.

Side A (trakcs 1-11) contains a live at The V.F.W. Hall,New Orleans,august 28th 1987.

Side B (tracks 12-19) contains a special bonus, adv. tracks from the "Serpent Temptation" LP which was yet to be released.