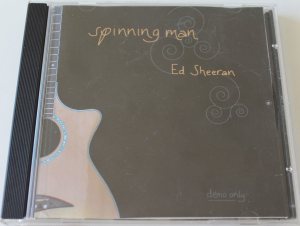 Spinning Man
Artist
Type
Demo
Released

2005

Genres

Folk Pop

,

Acoustic

Labels
Sheeran Lock
Length
47:21
Reviews : 0
Comments : 0
Total votes : 0
Rating : -
Have : 0
Want : 0
Added by

Borisman
| | Title | Length | Rating | Votes |
| --- | --- | --- | --- | --- |
| 1. | Typical Average | 3:25 | - | 0 |
| 2. | Misery | 4:53 | - | 0 |
| 3. | On My Mind | 4:03 | - | 0 |
| 4. | No More War | 4:27 | - | 0 |
| 5. | Moody Ballad of Ed | 3:10 | - | 0 |
| 6. | Addicted | 3:00 | - | 0 |
| 7. | Butterfly | 2:41 | - | 0 |
| 8. | Concord | 3:19 | - | 0 |
| 9. | Crazy | 4:09 | - | 0 |
| 10. | Broken | 3:28 | - | 0 |
| 11. | Celebrity | 2:32 | - | 0 |
| 12. | Sleep | 2:30 | - | 0 |
| 13. | Mindless | 2:54 | - | 0 |
| 14. | I Love You | 2:50 | - | 0 |
Ed Sheeran

:

Vocals, All Instruments, Songwriting, Lyrics
Production staff / artist
Alison Newell

:

Design

John Sheeran

:

Photography

Ed Sheeran

:

Recording, Mixing Engineer, Producer
Additional notes
21 copies are known to exist, 19 of which Ed Sheeran owns himself, as he has said he doesn't want anyone else to get hold of a copy.
Self-made and self-released whilst Ed was still in school. Recording began on 26 December 2004 and concluded 19 January 2005.

Demo Only.
Alternate versions of tracks 1, 2, 5, 6 & 14 would later appear on The Orange Room EP.
'No More War' is a protest song.
'Typical Average' is the first song ever written by Ed.