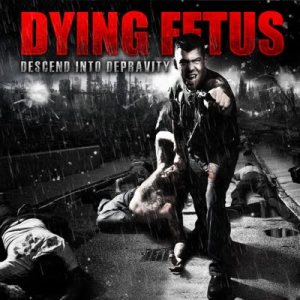 Descend into Depravity
Reviews : 0
Comments : 0
Total votes : 0
Rating : -
Have : 0
Want : 0
Added by

SludgeLeader
Descend into Depravity Information
| | Title | Length | Rating | Votes |
| --- | --- | --- | --- | --- |
| 1. | Your Treachery Will Die with You | 3:34 | - | 0 |
| 2. | Shepherd's Commandment | 4:28 | - | 0 |
| 3. | Hopeless Insurrection | 4:32 | - | 0 |
| 4. | Conceived into Enslavement | 4:24 | - | 0 |
| 5. | Atrocious by Nature | 3:52 | - | 0 |
| 6. | Descend into Depravity | 5:02 | - | 0 |
| 7. | At What Expense? | 4:37 | - | 0 |
| 8. | Ethos of Coercion | 3:16 | - | 0 |
John Gallagher

:

Vocals, Guitars

Sean Beasley

:

Bass, Vocals

Trey Williams

:

Drums
Additional notes
Catalogue # RR7054

Music "At What Expense" and "Hopeless Insurrection" Sean Beasley all other songs John Gallagher.
Produced by Steve Wright and Dying Fetus.
Recorded, mixed, and mastered April/May '09 at WrightWay Studios.
Deprivation and props by Fran/Frank Gelsinon.

The album was released internationally on September 21st 2009.

Limited edition digipak comes with an embroidered patch and a sticker also will feature different cover artwork and is limited to 4000 copies.

Also released on vinyl.

Japanese version bonus tracks:
9. Grotesque Impalement (Live)
10. Twisted Truth (Pestilence cover)

Videos for Shepherd's Commandment and Your Treachery Will Die with You were made.