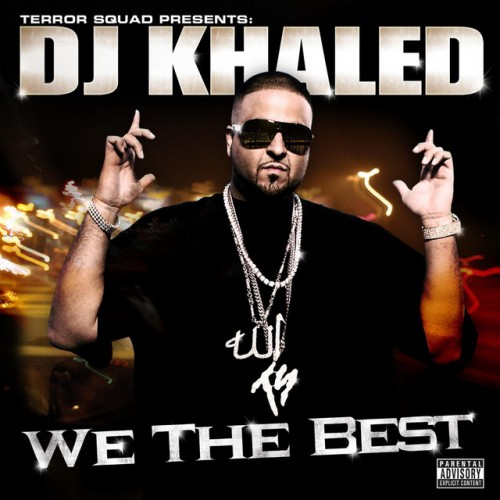 We the Best
Artist
Type
Studio Full-length
Released

2007-06-12

Genres

Hip Hop

Labels
Terror Squad, Koch
Format

CD

, Digital
Length
65:49
Reviews : 0
Comments : 0
Total votes : 0
Rating : -
Have : 0
Want : 0
Added by

PopRock
| | Title | Length | Rating | Votes |
| --- | --- | --- | --- | --- |
| 1. | Intro (We the Best) (featuring Rick Ross) | 1:57 | - | 0 |
| 2. | The Movement (Skit) (featuring K. Foxx) | 0:22 | - | 0 |
| 3. | We Takin' Over (featuring Akon, T.I., Rick Ross, Fat Joe, Birdman and Lil Wayne) | 4:24 | - | 0 |
| 4. | Brown Paper Bag (featuring Dre, Young Jeezy, Juelz Santana, Fat Joe, Rick Ross and Lil Wayne) | 4:57 | - | 0 |
| 5. | I'm So Hood (featuring T-Pain, Trick Daddy, Rick Ross and Plies) | 4:15 | - | 0 |
| 6. | Before the Solution (featuring Beanie Sigel and Pooh Bear) | 4:29 | - | 0 |
| 7. | I'm from the Ghetto (featuring Dre, The Game, Jadakiss and Trick Daddy) | 5:06 | - | 0 |
| 8. | Hit 'Em Up (featuring Bun B and Paul Wall) | 3:20 | - | 0 |
| 9. | S" on My Chest (featuring Birdman and Lil Wayne) | 4:10 | - | 0 |
| 10. | Bitch I'm from Dade County (featuring Dré, Trick Daddy, Trina, Rick Ross, Brisco, Flo Rida and C-Ride) | 5:48 | - | 0 |
| 11. | The Originators (featuring Bone Thugs-n-Harmony) | 6:18 | - | 0 |
| 12. | New York is Back (featuring Ja Rule, Fat Joe and Jadakiss) | 5:54 | - | 0 |
Guest / session musicians
Thomas "T" Hatcher

:

Bass Guitar

Eddie Montilla

:

Piano

Leroy Barbie Romans

:

Keyboards
Production staff / artist
DJ Khaled

:

Producer, Executive Producer

Fat Joe

:

Executive Producer

Kane Beatz

:

Producer

Cool & Dre

:

Producer

Danja

:

Producer

Jim Jonsin

:

Producer

The Diaz Brothers

:

Producer

The Runners

:

Producer

Robert "Big Briz" Brisbane

:

Engineer

Ryan Deaunovich

:

Mixing Assistant

Luis Diaz

:

Mixing

Ben Diehl

:

Assistant Engineer, Mixing Assistant

Jeff Edwards

:

Engineer

John Franck

:

Video Producer

Abel Garibaldi

:

Engineer, Programming

Paul Grosso

:

Creative Director

Terrell Jones

:

Stylist

Andrew Kelley

:

Art Direction, Design

Ian Mereness

:

Pro Tools

Regena Ratcliffe

:

Print Production

Douglas Sadler

:

Producer

Paul Alfonso

:

SEIR

Gina Victoria

:

Assistant Engineer
Additional notes
Wal-Mart edition (bonus tracks)
12. I'm So Hood (Remix) (featuring T-Pain, Young Jeezy, Ludacris, Busta Rhymes, Big Boi, Fat Joe, Birdman, Rick Ross and Lil Wayne) (5:42)

Best Buy bonus tracks
13. The Streets (featuring Shareefa and Willy Northpole) (3:46)
14. No Hook (featuring Jim Jones, Styles P, Cassidy and Rob Cash) (3:55)
15. Choppers (featuring Dré, Joe Hound and C-Ride) (4:47)
16. Make It Rain (Remix) (Fat Joe featuring Lil Wayne, R. Kelly, T.I., Birdman, Rick Ross and Ace Mac) (7:00)
17. Sexy Lady (Remix) (Yung Berg featuring Jim Jones and Rich Boy) (4:46)

On the Wal-Mart edition, the track "Hit 'Em Up" was being removed from the track listing on the album.
"Intro (We the Best)" and "**** I'm from Dade County" both do not included the vocals from Rick Ross in some markets, only included on the Best Buy edition.