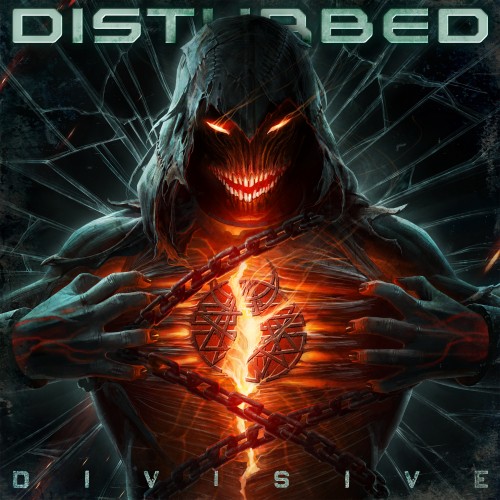 Divisive
Artist
Type
Studio Full-length
Released

2022-11-19

Genres

Alternative Metal

,

Heavy Metal

Labels
Warner Music Group
Format

CD

, Digital, Vinyl (LP)
Length
37:55
Reviews : 0
Comments : 0
Total votes : 0
Rating : -
Have : 0
Want : 0
Added by

AlternativeMetal
Last edited by

AlternativeMetal
| | Title | Length | Rating | Votes |
| --- | --- | --- | --- | --- |
| 01. | Hey You | 4:28 | - | 0 |
| 02. | Bad Man | 3:22 | - | 0 |
| 03. | Divisive | 3:58 | - | 0 |
| 04. | Unstoppable | 3:58 | - | 0 |
| 05. | Love To Hate | 3:36 | - | 0 |
| 06. | Feeding The Fire | 4:19 | - | 0 |
| 07. | Don't Tell Me [Feat. Ann Wilson] | 4:31 | - | 0 |
| 08. | Take Back Your Life | 2:58 | - | 0 |
| 09. | Part Of Me | 3:53 | - | 0 |
| 10. | Won't Back Down | 2:52 | - | 0 |
Dan Donegan

:

Bass Guitars, Guitars, Keyboards, Piano, Synthesizers

David Draiman

:

Lead and Background Vocals

Mike Wengren

:

Drums, Percussion, Acoustic Guitars

John Moyer

:

Bass Guitars, Acoustic Guitars, Assistance Vocals
Guest / session musicians
Ann Wilson (Heart)

:

Addiotional Vocals on Track 07

Jace Mann, Paul Murphy

:

Additional Engineered on Track 07
Production staff / artist
Disturbed

:

Produced

Andrew Colin Fulk (WZRD BLD)

:

Co-Produced, Assistance Mixed

Ted Jensen

:

Main Mastered, Main Mixed

Jeff Dunne, Trent Woodman

:

Assistance Mixed

Alex Tenta, Raymond Swanland

:

Art Direction, Artwork, Design, Cover Art, Illustration

Travis Shinn

:

Photography

Emma Banks (CAA)

:

Booking (international booking)

Darryl Eaton, Ryan Harlacher (CAA)

:

Booking (north american booking)
Additional notes
ADDITIONAL NOTES
News: https://wmg.jp/disturbed/discography/26944/

PRODUCED NOTES
Copyright © + Phonographic Copyright ℗ – Warner Music Group (Reprise Records)
Record Company – Warner Music Group (Sire Records)
Published By – Mother Culture Publishing
Published By – WC Music Corp
Published By – Wizards Dancing Underwater
Published By – Artist 101 Publishing Group
Published By – Kobalt Music Publishing
Recorded At – East Iris Studios
Recorded At – 25th Street Recording, Oakland, CA
Recorded At – FMG Studios
Engineered At – 25th Street Recording, Oakland, CA
Engineered At – Fragile Music Group
Mastered At – Sterling Sound (Ted Jensen)
Glass Mastered At – Sonopress – 58233291

Catalog ID: WPCR/NEOIMP-19502
Barcode: 093624867975 (Compact Disc), 093624867968 (Digital), 054391860408 (Hey You)

[COMMENT]
Issued in a gatefold cardboard sleeve (Mini LP replica style) with 12-page folded booklet (poster).

[BOOKLET]
Additional engineering on "Don't Tell Me" by Jace Mann at 25th Street Recording in Oakland, CA and Paul Murphy at Fragile Music Group in Orland Park, IL.

[BLACK DISTURBED COVER]
©+℗ 2022-11-19 Reprise Records & Sire Records for the U.S. and WEA International Inc. for the world outside the U.S.