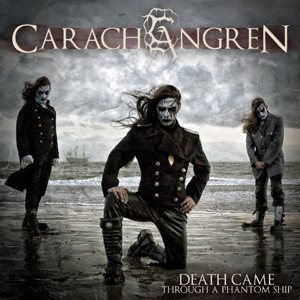 Death Came Through a Phantom Ship
| | |
| --- | --- |
| Artist | |
| Type | Studio Full-length |
| Released | 2010-02-26 |
| Genres | Symphonic Black Metal |
| Labels | Maddening Media |
| Length | 43:47 |
Reviews : 0
Comments : 0
Total votes : 0
Rating : -
Have : 0
Want : 0
Added by

SludgeLeader
Death Came Through a Phantom Ship Information
| | Title | Length | Rating | Votes |
| --- | --- | --- | --- | --- |
| 1. | Electronic Voice Phenomena | 0:59 | - | 0 |
| 2. | The Sighting Is a Portent of Doom | 4:09 | 100 | 1 |
| 3. | And the Consequence Macabre | 6:45 | - | 0 |
| 4. | Van der Decken's Triumph | 5:17 | 95 | 1 |
| 5. | Bloodstains on the Captain's Log | 5:52 | 100 | 1 |
| 6. | Al Betekent Het Mijn Dood | 1:08 | - | 0 |
| 7. | Departure Towards a Nautical Curse | 5:39 | - | 0 |
| 8. | The Course of a Spectral Ship | 5:09 | - | 0 |
| 9. | The Shining Was a Portent of Gloom | 8:49 | - | 0 |
Seregor

:

Guitars, Vocals, Vocals (choirs) on Track 6

Ardek

:

Orchestration, Keyboards, Vocals (backing) on Tracks 1, 6, Vocals (choirs) on Track 6

Namtar

:

Drums, Percussion
Guest / session musicians
Patrick Damiani

:

Bass, Guitars (additional), Vocals (choirs) on Track 6

Nikos Mavridis

:

Violin on Tracks 3, 4, 5, 9
Production staff / artist
Patrick Damiani

:

Recording, Mixing, Producer

Erik Wijnands

:

Artwork, All Photography, Textures, Design
Additional notes
"Al Betekent Het Mijn Dood" is Dutch for "Even if it means my Death".

All music by Seregor, Ardek, and Namtar.
Main compositions by Ardek.
Lyrics by Seregor and Erik Wijnands.

Recorded and mixed by Patrick Damiani at Tidalwave Studios (www.tidalwave.de).
Produced by Patrick Damiani and Carach Angren.
Mastered by 24-96 Mastering.
Artwork by Carach Angren and Erik Wijnands.
All photography, textures, and design by Erik Wijnands.
Carach Angren Discography