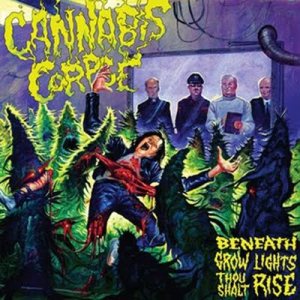 Beneath Grow Lights Thou Shalt Rise
| | |
| --- | --- |
| Artist | |
| Type | Studio Full-length |
| Released | 2011-07-12 |
| Genres | Death Metal |
| Labels | Tankcrimes Records |
| Length | 36:14 |
Reviews : 0
Comments : 0
Total votes : 0
Rating : -
Have : 0
Want : 0
Added by

SludgeLeader
Beneath Grow Lights Thou Shalt Rise Information
| | Title | Length | Rating | Votes |
| --- | --- | --- | --- | --- |
| 1. | Visions from the Dankside | 1:00 | - | 0 |
| 2. | Lunatic of Pot's Creation | 3:46 | - | 0 |
| 3. | Blame It on Bud | 2:55 | - | 0 |
| 4. | Chapel of Bowls | 3:10 | - | 0 |
| 5. | Dead by Bong | 2:44 | - | 0 |
| 6. | Immortal Pipes | 3:21 | - | 0 |
| 7. | Blaze of Torment | 2:50 | - | 0 |
| 8. | Sworn to the Bag | 3:03 | - | 0 |
| 9. | Where the Kind Lives | 3:12 | - | 0 |
| 10. | Gateways to Inhalation | 3:40 | - | 0 |
| 11. | Slave to the Chron | 3:21 | - | 0 |
| 12. | Beneath Grow Lights Thou Shalt Rise | 3:12 | - | 0 |
Andy "Weedgrinder" Horn

:

Vocals, Lyrics (tracks 1-10, 12)

Nick "Nikropolis" Poulos

:

Lead Guitar

Phil "Landphil" Hall

:

Rhythm Guitar, Bass, Keyboards, Lyrics (track 11)

Josh "HallHammer" Hall

:

Drums
Guest / session musicians
William Wells

:

Intro, Soundscapes
Production staff / artist
Ryan Furtado

:

Photography

Luz De Luna Duran

:

Photography

Mark Reategui

:

Layout

Jim "Barf" Callahan

:

Logo

Landphil

:

Producer, Recording

Andrei Bouzikov

:

Cover Art

Alan Douches

:

Mastering

Erik Rutan

:

Mixing

Scotty Heath

:

Executive Producer
Additional notes
Mastered at West West Side Music.
Mixed at Mana Studios.

Also released on vinyl, limited to 1000 copies
- 400 copies on blue vinyl
- 350 copies on translucent yellow/green splatter vinyl
- 250 copies die hard edition on clear vinyl

Die hard edition comes with an embroidered patch, full colour 11×17 poster, foil sticker, full colour postcard with track on it, and a flexi-disc containing an extra track:
- Weedspawn: The Re-Bake (3:31)

Re-released on CD on September 27th, 2013 by Season of Mist.

Vinyl Catalogue # TC45
CD Catalogue # TC48

A music video was made for the song "Where the Kind Lives".
Cannabis Corpse Discography