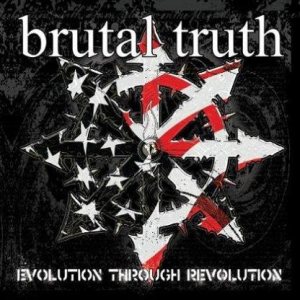 Evolution Through Revolution
Artist
Type
Studio Full-length
Released

2009-04-14

Genres

Death Metal

,

Grindcore

Labels
Relapse Records
Length
41:17
Reviews : 0
Comments : 0
Total votes : 0
Rating : -
Have : 0
Want : 0
Added by

SludgeLeader
Evolution Through Revolution Information
| | Title | Length | Rating | Votes |
| --- | --- | --- | --- | --- |
| 1. | Sugardaddy | 2:36 | - | 0 |
| 2. | Turmoil | 1:04 | - | 0 |
| 3. | Daydreamer | 1:46 | - | 0 |
| 4. | On the Hunt | 1:00 | - | 0 |
| 5. | Fist in Mouth | 1:57 | - | 0 |
| 6. | Get a Therapist Spare the World | 2:37 | - | 0 |
| 7. | War Is Good | 0:49 | - | 0 |
| 8. | Evolution Through Revolution | 2:52 | - | 0 |
| 9. | Powder Burn | 1:54 | - | 0 |
| 10. | Attack Dog | 0:42 | - | 0 |
| 11. | Branded | 0:06 | - | 0 |
| 12. | Detatched | 3:01 | - | 0 |
| 13. | Global Good Guy | 1:43 | - | 0 |
| 14. | Humpty Finance | 1:55 | - | 0 |
| 15. | Semi-Automatic Carnation | 2:55 | - | 0 |
| 16. | Itch | 2:44 | - | 0 |
| 17. | Afterworld | 3:26 | - | 0 |
| 18. | Lifer | 2:53 | - | 0 |
| 19. | Bob Dylan Wrote Propaganda Songs | 1:22 | - | 0 |
| 20. | Grind Fidelity | 3:55 | - | 0 |
Kevin Sharp

:

Vocals

Erik Burke

:

Guitars

Dan Lilker

:

Bass

Rich Hoak

:

Drums
Production staff / artist
Doug White

:

Producer, Recording

Sanford Parker

:

Producer, Recording

Jason P.C.

:

Mixing, Mastering
Scott Hull

:

Mastering

Scott Kinkade

:

Photography
Additional notes
Recorded by Doug White at Watchmen Studio and Sanford Parker at Volume Studios.

Mixed by Jason P.C. at Goatsound.
Mastered by Scott Hull at Visceral Sound.

"Bob Dylan Wrote Propaganda Songs" written and originally recorded by The Minutemen.

Music videos were made for "Sugar Daddy" and "Get a Therapist...Spare the World".