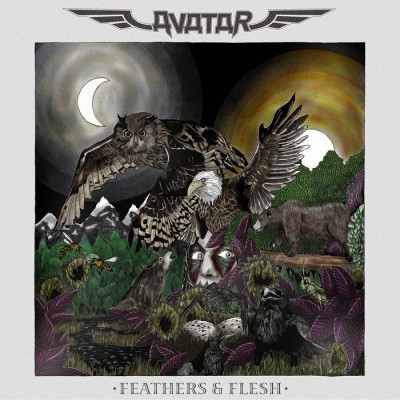 Feathers & Flesh
Reviews : 0
Comments : 0
Total votes : 0
Rating : -
Have : 0
Want : 0
Added by

SludgeLeader
Feathers & Flesh Information
| | Title | Length | Rating | Votes |
| --- | --- | --- | --- | --- |
| 1. | Regret | 2:01 | - | 0 |
| 2. | House of Eternal Hunt | 4:58 | - | 0 |
| 3. | The Eagle Has Landed | 5:01 | - | 0 |
| 4. | New Land | 4:31 | - | 0 |
| 5. | Tooth, Beak & Claw | 4:25 | - | 0 |
| 6. | For the Swarm | 1:54 | - | 0 |
| 7. | Fiddler's Farewell | 4:57 | - | 0 |
| 8. | One More Hill | 4:13 | - | 0 |
| 9. | Black Waters | 5:38 | - | 0 |
| 10. | Night Never Ending | 3:32 | - | 0 |
| 11. | Pray the Sun Away | 5:30 | - | 0 |
| 12. | When the Snow Lies Red | 5:16 | - | 0 |
| 13. | Raven Wine | 4:36 | - | 0 |
| 14. | Sky Burial | 6:54 | - | 0 |
| 15. | I've Got Something in My Front Pocket for You (South Park theme) | 1:17 | - | 0 |
| 16. | Det är alldeles försent | 3:08 | - | 0 |
Johannes Eckerström

:

Vocals

John Alfredsson

:

Drums

Kungen

:

Guitars

Henrik Sandelin

:

Bass, Backing Vocals

Tim Öhrström

:

Guitars, Backing Vocals
Guest / session musicians
Aron Parmerud

:

Programming, Choirs (tracks 1, 4, 10, 14)

Marcus Bertilsson

:

Esraj (tracks 4, 13)

Anders Pihl

:

Pipe Organ (tracks 1, 14)

Marie Eckerström

:

Choirs (tracks 1, 4, 10, 14)

Ida Eckerström

:

Choirs (tracks 1, 4, 10, 14)

Adam Alfredsson

:

Choirs (tracks 1, 4, 10, 14)

Anders Karlsson

:

Choirs (tracks 1, 4, 10, 14)

Emma Cederberg

:

Choirs (tracks 1, 4, 10, 14)

Sofie Peters

:

Choirs (tracks 1, 4, 10, 14)
Production staff / artist
Arno Jordan

:

Assistant Engineer

Pedro Ferreira

:

Engineer (additional)

James Ingram

:

Assistant Mixing Engineer

Mauri Syrjälä

:

Engineer (assistant, vocals)

Viktor Gullichsen

:

Engineer (assistant, vocals)

Paul Logus

:

Mastering Engineer

George Cappellini Jr.

:

Executive Producer

Dennis Bertilsson

:

Recording (esraj)

Morgan O'Shaughnessey

:

Strings (tracks 4, 7, 14)

Nick Kirby

:

Engineer (morgan's strings)

Henrik Krantz

:

Artwork

Paul Grosso

:

Art Direction

Sean Marlowe

:

Art Direction

Johan Carlén

:

Photography

Peter Junge

:

Engineer (bass, drums, guitars)

Jay Ruston

:

Mixing Engineer

Sylvia Massy

:

Producer, Engineer
Additional notes
Recorded during December 2015 - January 2016 at various studios:
 -Bass, guitars and drums at Castle Studios in Rohrsdorf, Chemnitz, Saxony, Germany.
 -Vocals at Suomenlinnan Studio in Helsinki, Uusimaa, Finland.
 -Additional recordings and overdubs at Spinroad Studio in Lindome, Mölndal, Sweden.
 -Morgan's strings at Foundations Soundstage in Ashland, Oregon, United States.
 -Pipe organ on location at Hagakyrkan, Gothenburg, Sweden.
 -Big percussions on location at Molndals Kulturskola, Mölndal, Gothenburg, Sweden.
Mixed at TRS West in Sherman Oaks, Los Angeles, California, United States.
Mastered at PLX Mastering in New York City, New York, United States.

Track 15 is a cover of the song originally presented in American animated sitcom "South Park" (season 8, episode 4).