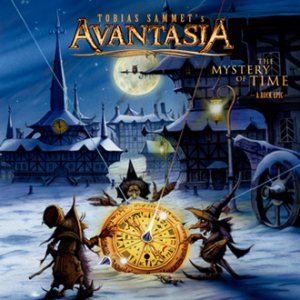 The Mystery of Time
Reviews : 0
Comments : 0
Total votes : 0
Rating : -
Added by

dImmUholic
The Mystery of Time Information
| | Title | Length | Rating | Votes |
| --- | --- | --- | --- | --- |
| 1. | Spectres | 6:09 | - | 0 |
| 2. | The Watchmaker's Dream | 4:14 | - | 0 |
| 3. | Black Orchid | 6:52 | - | 0 |
| 4. | Where Clock Hands Freeze | 4:35 | - | 0 |
| 5. | Sleepwalking | 3:52 | - | 0 |
| 6. | Savior in the Clockwork | 10:40 | - | 0 |
| 7. | Invoke the Machine | 5:30 | - | 0 |
| 8. | What's Left of Me | 5:07 | - | 0 |
| 9. | Dweller in a Dream | 4:45 | - | 0 |
| 10. | The Great Mystery | 10:03 | - | 0 |
| 11. | The Cross and You | 4:14 | - | 0 |
| 12. | Death is Just a Feeling (Alternative Version) | 5:24 | - | 0 |
Tobias Sammet

:

Vocals, Bass

Sascha Paeth

:

Guitars

Russell Gilbrook

:

Drums

Michael "Miro" Rodenberg

:

Keyboards, Orchestration
Guest / session musicians
Joe Lynn Turner

:

Vocals on 1, 2, 6, 10

Biff Byford

:

Vocals on 3, 6, 10

Michael Kiske

:

Vocals on 4, 6, 9

Cloudy Yang

:

Vocals on 5

Ronnie Atkins

:

Vocals on 7

Eric Martin

:

Vocals on 8

Bob Catley

:

Vocals on 10

Arjen Anthony Lucassen

:

Lead Guitar on 2

Bruce Kulick

:

Lead Guitar on 3, 6, 10

Oliver Hartmann

:

Lead Guitar on 4, 7

Film-Orchestra Babelsberg

:

Orchestration
Additional notes
All songs written and composed by Tobias Sammet
Produced & Mixed by Sascha Paeth and Tobias Sammet

Limited "Earbook Edition" comes with the two aforementioned bonus tracks on disc 1, and a bonus CD containing instrumental versions of tracks 1-10.

A pressing error occurs on the bonus disc of the first press of 2CD-editions. The last few minutes of the instrumental version of track 10, "The Great Mystery" are missing and the song ends abruptly. Nuclear Blast will supply those who bought this erroneous version with a replacement bonus CD that does not have the pressing error.