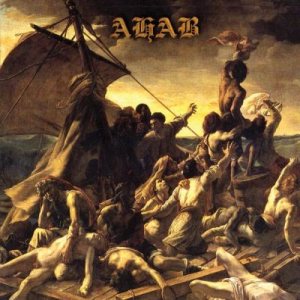 The Divinity of Oceans
| | |
| --- | --- |
| Artist | |
| Type | Studio Full-length |
| Released | 2009-07-24 |
| Genres | Funeral Doom Metal |
| Labels | Napalm Records |
| Length | 1:07:36 |
Reviews : 0
Comments : 0
Total votes : 0
Rating : -
Have : 0
Want : 0
Added by

SludgeLeader
The Divinity of Oceans Information
| | Title | Length | Rating | Votes |
| --- | --- | --- | --- | --- |
| 1. | Yet Another Raft of the Medusa (Pollard's Weakness) | 12:40 | - | 0 |
| 2. | The Divinity of Oceans | 11:03 | - | 0 |
| 3. | O Father Sea | 7:07 | - | 0 |
| 4. | Redemption Lost | 10:25 | - | 0 |
| 5. | Tombstone Carousal | 7:27 | - | 0 |
| 6. | Gnawing Bones (Coffin's Lot) | 10:48 | - | 0 |
| 7. | Nickerson's Theme | 8:06 | - | 0 |
Daniel Droste

:

Vocals, Guitars

Christian Hector

:

Guitars

Stephan "Norz" Wandernoth

:

Bass

Cornelius Althammer

:

Drums
Production staff / artist
Ian Dehling

:

Recording

Christian Hoffarth

:

Lyrics (Tracks 2, 3)

Hector

:

Layout, Artwork, Lyrics

Markus Stock

:

Mixing, Mastering

Althammer

:

Producer, Recording

Severin Schweiger

:

Photography
Additional notes
Release dates :
July 22 - Finland, Spain
July 24 - Germany, Austria, Switzerland, France, Italy, Sweden
July 27 - Rest of Europe
July 28 - Canada, USA

The album cover is a painting by Théodore Géricault called "Le Radeau De La Méduse" (The Raft of the Medusa).

Also released as a gatefold double LP limited to 500 hand-numbered copies.

Concept album of the true story of the Whale-Ship Essex which was sunk in an attack by a sperm whale before the men resorted to cannibalism in order to survive, as told by survivor Owen Chase in his 1821 book "Narrative of the Most Extraordinary and Distressing Shipwreck of the Whale-Ship Essex". This book formed the inspiration for Herman Meville's famous work "Moby Dick" where the name Ahab is from.