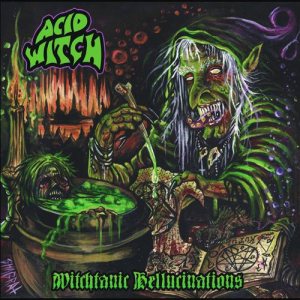 Witchtanic Hellucinations
Reviews : 0
Comments : 0
Total votes : 0
Rating : -
Have : 0
Want : 0
Added by

SludgeLeader
Witchtanic Hellucinations Information
| | Title | Length | Rating | Votes |
| --- | --- | --- | --- | --- |
| 1. | Intro | 1:06 | - | 0 |
| 2. | Into the Cave | 3:26 | - | 0 |
| 3. | Swamp Spells | 5:10 | - | 0 |
| 4. | Witchblood Cult | 3:12 | - | 0 |
| 5. | The Black Witch | 4:28 | - | 0 |
| 6. | Witchtanic Hellucinations | 3:47 | - | 0 |
| 7. | Beastly Brew | 2:00 | - | 0 |
| 8. | Cauldron Cave | 3:20 | - | 0 |
| 9. | Rabid Werewitch | 3:45 | - | 0 |
| 10. | Realm of the Wicked | 2:15 | - | 0 |
| 11. | Witches Tits | 2:16 | - | 0 |
| 12. | Broomstick Bitch | 4:14 | - | 0 |
| 13. | October 31st | 5:04 | - | 0 |
Lasse Pyykkö

:

Vocals

Slasher Dave

:

Unknown

Shagrat

:

Unknown
Production staff / artist
Sinester

:

Lyrics (Track 4)

Billy Nocera

:

Lyrics (Track 9)

Lucio Holocausto

:

Lyrics (Tracks 2, 3, 12)

Patrick Bruss

:

Mastering

Slasher Dave

:

Layout, Lyrics (Tracks 8, 11, 13)

Shagrat

:

Cover Art, Lyrics (Tracks 5, 6)

Joseph Vargo

:

Intro Witch Voice

Goreboar

:

Lyrics (Track 4)
Additional notes
Recorded at Cauldron Cave.

The following text is printed on the CD:

"Unauthorized copying of this material is prohibited, if caught you will face up to 13 years of sucking cold smelly pus crusted WITCHES TITS"

CD: Razorback Records
12" vinyl: Self-released through the band

Reissued on CD by Hells Headbangers Records on October 31st, 2012 with a new layout.

Reissued on LP by Hells Headbangers Records in February, 2013: Comes in a Gatefold cover with a large 18"x24" poster of the cover artwork and an old school Acid Witch Halloween die-cut decoration similar to the spooky die-cuts of the 60s, 70s and 80s. The records come in a poly-lined black inner sleeve to prevent scratching & static.
Unspecified numbers of copies in Black, olive green / grimace purple and orange-in-black. 222 copies with a picture disc.