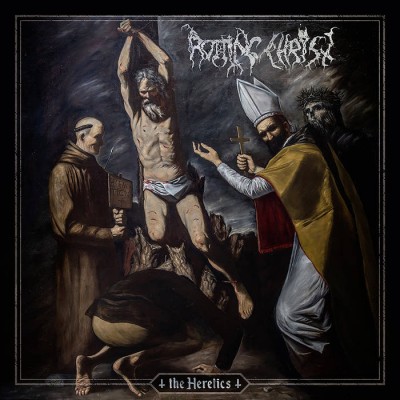 The Heretics
| | |
| --- | --- |
| Artist | |
| Type | Studio Full-length |
| Released | 2019-02-15 |
| Genres | Melodic Black Metal |
| Labels | Season of Mist |
| Length | 43:36 |
Reviews : 0
Comments : 0
Total votes : 0
Rating : -
Have : 0
Want : 0
Added by

SludgeLeader
| | Title | Length | Rating | Votes |
| --- | --- | --- | --- | --- |
| 1. | In the Name of God | 4:14 | - | 0 |
| 2. | Vetry zlye (Ветры злые) | 3:13 | - | 0 |
| 3. | Heaven and Hell and Fire | 4:52 | - | 0 |
| 4. | Hallowed Be Thy Name | 5:06 | - | 0 |
| 5. | Dies Irae | 3:46 | - | 0 |
| 6. | I Believe (Πιστεύω) | 3:42 | - | 0 |
| 7. | Fire God and Fear | 4:50 | - | 0 |
| 8. | The Voice of the Universe | 5:23 | - | 0 |
| 9. | The New Messiah | 3:07 | - | 0 |
| 10. | The Raven | 5:23 | - | 0 |
| 11. | Sons of Hell | | - | 0 |
Themis Tolis

:

Drums

Sakis Tolis

:

Guitars, Vocals, Bass, Songwriting, Lyrics
Guest / session musicians
Irina Zybina

:

Female Vocals (track 2)

Dayal Patterson

:

Backing Vocals (tracks 3, 7)

Melechesh Ashmedi

:

Vocals (track 8)

Stratis Steele

:

Backing Vocals (track 10)
Production staff / artist
Sakis Tolis

:

Producer

George Emmanuel

:

Recording Engineer

Maximos Manolis

:

Artwork

Jens Bogren

:

Mixing, Mastering Engineer
Additional notes
Recorded in Pentagram Studios, Athens, Greece.
Mixed and mastered in Fascination Street Studio, Örebro, Sweden.

- Deluxe Digibox edition wich includes 'The Heretics' on CD digipak with the bonus track 'The Sons of Hell' + exclusive wristband with embroidered ROTTING CHRIST logo + woven patch (14x5cm) + poster (36x48cm). Limited to 6.000 copies worldwide.

"The Raven" is based on a poem by Edgar Allan Poe.
Rotting Christ Discography