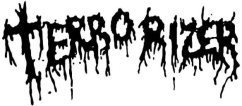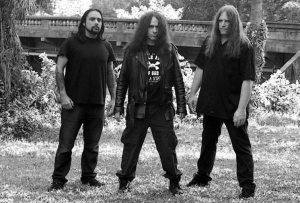 Terrorizer
Sam Molina

:

Bass, Vocals

(2013-)

Lee Harrison

:

Guitars

(2013-)

Pete "Commando" Sandoval

:

Drums

(1987-1989, 2005-)
Alfred "Garvey" Estrada

:

Bass

(1987-1988)

Jesse Pintado (R.I.P. 2006)

:

Guitars

(1987-1989, 2005-2006)

Oscar Garcia

:

Vocals, Guitars

(1987-1989)

Tony Norman

:

Bass

(2005-2011)

Anthony "Wolf" Rezhawk

:

Vocals

(2005-2013)

Katina Culture

:

Guitars

(2009-2013)
Releases : 4 Total votes : 1 Reviews : 0
Added by

HardLine
Last edited by

SludgeLeader
Additional notes
Born from the ashes of Majesty in 1987, they broke up in early 1988, so the debut LP was recorded posthumously in '89, because Shane Embury (Napalm Death) worshiped old Terrorizer demos so much that he brainwashed the Earache boss. Jesse once remarked in an interview that Oscar had already forgotten half the songs, so they recorded the album with only one guitar. Pete Sandoval was already working on Morbid Angel's Altars of Madness, so Oscar and Jesse went to Morris Sound to record in the same place; then David Vincent ended up filling in on bass because Garvey was in jail. The LP was recorded and mixed in 8 hours!

Terrorizer was one of the first bands that producer Scott Burns got to work with, where the sound on this album would later be known as the "death metal production". Because of his work, he later went on as being a well-known death metal producer.

Jesse and Pete reformed Terrorizer in 2005. Jesse died in Holland in August 2006 (shortly after the release of the comeback album) allegedly from diabetes worsened by his rumored alcoholism, thus ending the reunion of Terrorizer.

In 2009, the band had reformed once again, this time with David Vincent also returning and Resistant Culture guitarist Katina Culture as Jesse's replacement.

The UK-based extreme music magazine Terrorizer is named in honour of the band.