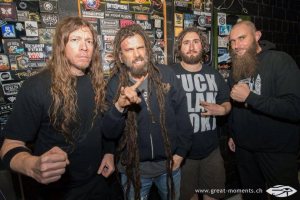 Six Feet Under
a.k.a.
S.F.U., 6 Feet Under, Six Ft Under
Country

United States

Formed
1993,

Tampa, Florida

Genres

Death Metal

Labels
Metal Blade Records
Chris Barnes

:

Vocals

(1993-)

Steve Swanson

:

Guitars

(1998-)

Jeff Hughell

:

Bass

(2012-)

Marco Pitruzzella

:

Drums

(2013-)
Terry Butler

:

Bass

(1993-2011)

Greg Gall

:

Drums

(1993-2011)

Allen West

:

Guitars

(1993-1998)

Matt DeVries

:

Bass

(2011-2012)

Kevin Talley

:

Drums

(2011-2013)

Rob Arnold

:

Guitars

(2011-2012)

Ola Englund

:

Guitars

(2012-2013)
Releases : 21 Total votes : 1 Reviews : 0
Added by

HardLine
Last edited by

SludgeLeader
Six Feet Under Discography
Additional notes
A side project band started by Chris Barnes and Allen West of Obituary. Originally, the band was intended to just remain a side project, but after Chris was ejected from his original band Cannibal Corpse, Six Feet Under became his priority, subsequently moving the band from a side project to the long running act they are today.

Guest appearances through various Six Feet Under albums include Ice-T on True Carnage''s "One Bullet Left" and Karyn Crisis of Crisis fame on the True Carnage song "Sick and Twisted." Many consider this the first death metal duet between a male and female.

World-renowned tattoo artist Paul Booth is known to do most of Six Feet Under's album art.