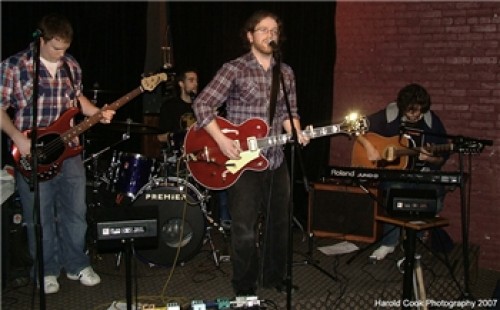 Silvergun
Jason MacIsaac

:

Guitars, Lead Vocals

Adam MacIsaac

:

Bass

Shane Gyorfi

:

Drums

Mike Ryan

:

Keyboards
Releases : 1 Total votes : 0 Reviews : 0
Added by
Davelovescountry
Album title
Lyrics
Type
Released
Rating
Votes
Reviews

Silvergun

(2007)

EP

2007

-
0
0
Additional notes
Silvergun, based out of Halifax, Nova Scotia and formed in the fall of 2006, is a group of experienced and accomplished musicians with a broad style of musical influences. Their sound had been compared to the styles of Tom Petty, Ryan Adams and Sam Roberts, and is set to add an exciting new dynamic to an already explosive Halifax music scene.

Members Jason MacIsaac(Guitars/Lead Vocals), Adam MacIsaac(Bass/Vocals), Shane Gyorfi(Drums/Vocals), and Mike Ryan(Keys/Guitar/Vocals) have played together since growing up in Inverness, Cape Breton. They first brought their talents to the Halifax playing in bands like Satellite Rides, The Aaron MacDonald Band, The Cas McCrea Band, Billy's Flick, and Deadline Sunday, where they've shared the stage with artists like The Trews, Blue Rodeo, Hawksley Workman, Matt Mays & El Torpedo, and Staggered Crossing.

Silvergun has already been receiving plenty of press throughout the east coast, helping them to build a strong fan base to support their steady string of gigs. They've shared the stage with Canadian legends April Wine, and other Halifax talent such as The Contact, Sleep To Dream and The Grass. Their debut CD is available now.