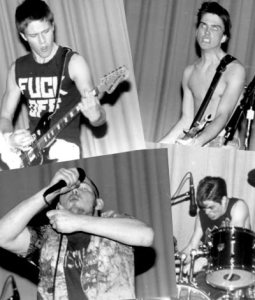 Siege
Seth Putnam

:

Vocals

(R.I.P. 2011)

Kurt Habelt

:

Guitars

Hank McNamee

:

Bass

Rob Williams

:

Drums
Kevin Mahoney

:

Vocals, Saxophone

(R.I.P. 2011)
Releases : 2 Total votes : 0 Reviews : 0
Added by

SludgeLeader
Last edited by

SludgeLeader
Additional notes
Kurt Habelt, Henry McNamee, and Rob Williams formed what was to become Siege around 1981. The three youngsters from Weymouth, Massachusetts had been playing music together since 7th grade or so. The band didn't really solidify until they recruited ska band saxophonist Kevin Mahoney on vocals in 1983. Although Mahoney was from Braintree, Massachusetts (near Boston and home also to Jerry's Kids and Gang Green), the band was never fully accepted by the XClaim-dominated Boston hardcore scene. They were definitely not lacking sonically, however, playing furious music at breakneck speed and pioneering a new style of brutal and nihilistic hardcore.

In 1984, Siege went into Radiobeat studios to record a demo with Lou Giordano. The tape made its way through the hardcore punk underground, and clearly made an impression on Pushead for one, who included Siege on his seminal 1985 compilation Cleanse the Bacteria. The three songs on this record were to be the only "official" release by the band until Relapse put out their demo in 1993. Siege called it quits a year or so later. Afterwards, Rob Williams played drums in Nightstick, a Sabbath-influenced band from Massachusetts.

In the early 90's, Siege reformed with Seth Putnam (of Anal Cunt) replacing Mahoney on vocals, although the band dissolved again fairly soon after. At the moment, Williams and Putnam are collaborating with saxophonist Jim Hobbs and guitarist Chris Joyce, performing and recording improv noise material under the name The Death's Head Quartet. Kevin Mahoney was last seen doing theatre in Cambridge, MA", Taken from the "Kill From The Heart" webpage. In addition, Siege had an impact on Uk bands like Ripcord, Heresy, and Napalm Death. Besides playing Boston-area shows, Siege would also play shows in the Western Mass area with bands like Deep Wound and The Outpatients.

Siege has left a impact on the hardcore scene, with their intense style of hardcore influencing many with their sound. Highly recommended for someone looking to listen to some chaotic hardcore.