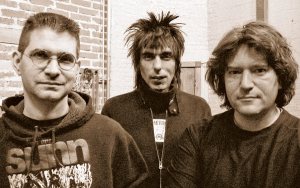 Shellac
a.k.a.
Shellac of North America, Schellack, シェラック
Country

United States

Formed
1992,

Evanston, Illinois, United States

Genres

Noise Rock

,

Post-Hardcore

,

Math Rock

,

Experimental Rock

Labels
Touch and Go Records, Drag City, Skin Graft
Years active
1992-present
Steve Albini

:

Guitar, Vocals

(1992-present)

Bob Weston

:

Bass, Vocals

(1993-present)

Todd Trainer

:

Drums, Vocals

(1992-present)
Camilo Gonzalez

:

Bass

(1992-1993)
Releases : 10 Total votes : 0 Reviews : 0
Added by

Pop-Tarts
Last edited by

SludgeLeader
Additional notes
More likely to play Reykjavik than Detroit, and more likely to release songs on flexi-discs in Dutch comic books than provide MP3s on their website, Shellac (or Shellac of North America) operated completely outside the typical machinations of the music industry -- their press sheets typically exclaimed "no free lunch," referring to promo copies -- and the trio carved out a sizable niche as a minimalist rock band.

Started in an informal setting between infamous engineer and guitarist Steve Albini (ex-Just Ducky, Big Black, Rapeman) and drummer Todd Trainer (ex-Rifle Sport, Brick Layer Cake) in 1992, Shellac came into full formation after Albini invited bassist Bob Weston (ex-Sorry, Volcano Suns) to move to Chicago, employing him as an engineer at his studio. A clutch of singles soon appeared in 1993 and 1994 on Touch & Go and Drag City, somewhat following in the footsteps of Albini's Big Black and Rapeman, if only due to his trebly, cutting guitar work and deadpan vocals. As with Big Black, Shellac provided a forum for Albini to air his thoughts on the uglier side of humanity, though lowering the perversity and upping the humor a notch. (An early claim was that all Shellac songs concerned either baseball or Canada, sometimes both in the same song.) The odd rhythms of Trainer and rumbling bass of Weston, however, clearly removed Shellac from any of the members' previous involvements.

At Action Park The trio's first LP, At Action Park, appeared in late 1994. Four years passed until their proper follow-up, Terraform, which was recorded much earlier than its release date but was delayed due to artwork clearance. Recorded on various dates in 1998 and 1999, their third full-length, 1000 Hurts, was released in the late summer of 2000. Excellent Italian Greyhound followed nearly seven full years later, featuring several songs the band had been playing live for quite some time. The band also recorded a session for John Peel, gave away a recording made for a ballet to 779 friends, and had a live show released in Japan by chum K.K. Null. Other singles and numerous compilation appearances featured Shellac, including a cover of AC/DC's "Jailbreak" for a Skin Graft compilation.
As each of the members had day jobs to tend to (Albini recording various bands at his Chicago-based Electrical Audio recording studio and Weston working as a freelance engineer; operating an audio mastering facility, Chicago Mastering Service; and serving as live sound man and audio manipulator for Mission of Burma), Shellac toured at what they described as their "usual sporadic and relaxed pace," adding, "there is no specific coordination between Shellac's record releases and touring schedules." The opportunity to perform in geographic locations they wanted to visit is often a major factor in Shellac's touring plans, and they frequently played in unconventional confines such as riverboats. Between-song banter was more likely to consist of question-and-answer sessions with the crowd than proclamations of how much the band liked the city they were in. Sharing a skewed sense of humor that is fully apparent in their recordings and excellent packaging, it was possible that a concertgoer could walk away from a Shellac show with anything ranging from an autographed baseball to visions of Weston in a bunny outfit.

Dude Incredible In July 2014, they announced details of their long-awaited follow-up to 2007's Excellent Italian Greyhound. Entitled Dude Incredible ("There is no comma in Dude Incredible, like Sir Duke or King Friday, for example," the band helpfully noted on Touch & Go's website), it was recorded at Electrical Audio and was slated for release in September 2014.