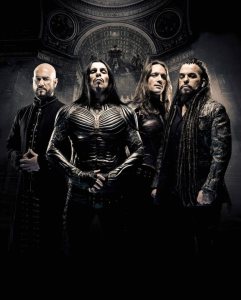 Septicflesh
Spiros Antoniou

:

Bass, Harsh Vocals

(1990-2003, 2007-)

Christos Antoniou

:

Guitars

(1990-2003, 2007-)

, Keyboards

(1990-2003, 1990-2003)

, Orchestrations, Samples

(2007-present, 2007-)

Sotiris Vayenas

:

Guitars, Clean Vocals, Lyrics

(1990-2003, 2007-)

, Keyboards

(1994-1998)

Kerim "Krimh" Lechner

:

Drums

(2014-)
Dimitris Valasopoulos

:

Drums

(1990-1991)

Akis Kapranos

:

Drums

(1999-2002)

George Z

:

Keyboards

(2000-2003)

Fotis Benardo

:

Drums, Percussion

(2003, 2007-2014)
Releases : 9 Total votes : 0 Reviews : 0
Added by

HardLine
Last edited by

SludgeLeader
| | Track title | Album title | Rating | Votes |
| --- | --- | --- | --- | --- |
| 1 | Anubis | Communion (2008) | 100 | 1 |
| 2 | Sunlight Moonlight | Communion (2008) | 95 | 1 |
| 3 | Sangreal | Communion (2008) | 95 | 1 |
Additional notes
Split-up in 2003, to alleviate personal issues, but reunited in late 2007.

During those years, Christos, Spiros and Fotis formed The Devilworx, and played with Slipknot.

The name change to "Septicflesh" was confirmed by Christos Antoniou in a Lords of Metal interview. The reason behind the decision was that it looked better, although the meaning was the same.

The band used a drum machine on their first few albums (until "Revolution DNA"), as confirmed by Sotiris Vayenas.