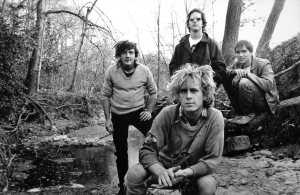 Scratch Acid
David Wm. Sims

:

Guitar

(1982)

, Bass

(1982-1987, 2006, 2012)

Brett Bradford

:

Guitar

(1982-1987, 2006, 2012)

David Yow

:

Bass

(1982)

, Vocals

(1982-1987, 2006, 2012)

Rey Washam

:

Drums

(1982-1987, 2006, 2012)
Steve Anderson

:

Vocals

(1982)
Releases : 4 Total votes : 0 Reviews : 0
Added by

SludgeLeader
Additional notes
Scratch Acid was an Austin, Texas based noise rock group formed in 1982, they disbanded in 1987.

Anderson was kicked out of the band before they ever recorded an album, prompting Yow to move to vocals and Sims to move to bass.

David Yow and David Sims went on to form The Jesus Lizard.