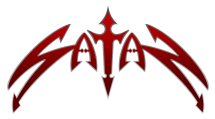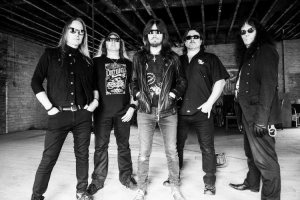 Satan
Steve Ramsey

:

Guitars

(1979-1984, 1985-1988, 2004, 2011-)

Russ Tippins

:

Guitars

(1979-1984, 1985-1988, 2004, 2011-)

Graeme English

:

Bass

(1980-1984, 1985-1988, 2004, 2011-)

Sean Taylor

:

Drums

(1983-1984, 1985-1988, 2011-)

Brian Ross

:

Vocals

(1983-1984, 2004, 2011-)
Steven Bee

:

Bass

(1979-1980)

Andy Reed

:

Drums

(1979-1981)

Steve Allsop

:

Vocals

(1979-1981)

Andrew Frepp

:

Vocals

(1979)

Ian McCormack

:

Drums

(1981-1983)

Trevor Robinson

:

Vocals

(1981-1982)

Lou Taylor

:

Vocals

(1982, 1984)

Ian "Swifty" Swift

:

Vocals

(1982-1983)

Michael Jackson

:

Vocals

(1985-1988)
Releases : 13 Total votes : 0 Reviews : 0
Added by

SludgeLeader
Additional notes
Satan would change their name to Blind Fury after the release of their debut Court in the Act. The former singer Brian Ross was replaced by Lou Taylor who was in Satan once before and himself was also, ironically, replaced by Brian Ross. After they released Out of Reach they changed their name back to Satan and Michael Jackson joined on vocals. In 1988, they changed their name again, this time to The Kindred and then to Pariah. They recorded two more albums and then quit, with a reformed version of Pariah releasing a third album in 1997.

The Court in the Act line-up of Satan reunited for a one-off show at Wacken Open Air in 2004, with Phil Brewis filling on drums as Sean Taylor had suffered an injury and was unfit to perform. A permanent reunion of the full debut album line-up eventually took place in 2011.

With regards to the band's name, Steve Ramsey said in a 2013 interview: "The judge was always part of it, the judge and the devil. That's the basic theme of the whole band, you know. Satan isn't occult or anything like that, the whole idea of the band is injustice. It's all about injustice."