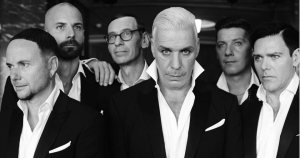 Rammstein
Till Lindemann

:

Vocals

Paul Landers

:

Guitar

Richard Kruspe

:

Guitar

Oliver Riedel

:

Bass

Christoph "Doom" Schneider

:

Drums, Percussion

Christian "Flake" Lorenz

:

Keyboard, Samples, Synthesizers
Releases : 10 Total votes : 1 Reviews : 0
Added by

Myland
Last edited by

SludgeLeader
| | Track title | Album title | Rating | Votes |
| --- | --- | --- | --- | --- |
| 1 | Mein Herz Brennt | Mutter (2001) | 95 | 1 |
| 2 | Links 234 | Mutter (2001) | 95 | 1 |
| 3 | Ich Will | Mutter (2001) | 95 | 1 |
| 4 | Sonne | Mutter (2001) | 90 | 1 |
| 5 | Mutter | Mutter (2001) | 90 | 1 |
| 6 | Amerika | Reise Reise (2004) | 90 | 1 |
Additional notes
The band called themselves Rammstein-Flugschau (Rammstein Airshow) after the 1988 Ramstein air show disaster. Guitarist Paul H. Landers said the spelling of Ramstein with the extra "m" was a mistake. After the band became popular, the bandmembers denied the connection to the air show disaster and said that their name was inspired by the giant doorstop-type devices found on old gates, called Rammsteine. The extra "m" in the band's name makes it translate literally as "ramming stone."

Rammstein has had no changes in their line-up. Richard Kruspe had said in a Revolver Magazine interview that it is because of the band respecting each other's wishes to take a break; either for personal reasons or to focus on a side project.

Members of the band currently have side projects that they take part in during Rammstein's inactivity. Kruspe currently fronts the group Emigrate while Till Lindemann began his project Lindemann, in 2015.