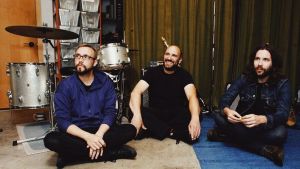 Pedro the Lion
David Bazan

:

Vocals, Guitar, Bass, Drums, Synthesizer, Percussion

(1997-2006, 2017-present)

Erik Walters

:

Guitar

(2017-present)

Sean Lane

:

Drums

(2017-present)
Benjamin Brubaker

:

Drums

(1998-1999, 2003)

Jeremy Dybash

:

Drums

(1998)

Johnathon Ford

:

Bass

(1998)

Casey Foubert

:

Drums, Keyboards

(2001-2004)

Ben Gibbard

:

Bass

(2000)

Josh Golden

:

Bass

(1998-2000)

Frank Lenz

:

Drums

(2004-2005)

Ken Maiuri

:

Bass

(2004-2005)

Trey Many

:

Drums, Bass, Guitar

(1998, 2000-2001, 2005)

Yuuki Matthews

:

Keyboards

(2000-2001)

James McAlister

:

Keyboards, Percussion, Drums

(2004)

Paul Mumaw

:

Drums

(1998)

Brian Olson

:

Drums

(1997)

Nick Peterson

:

Guitar

(1997-1999)

Tim Schiefer

:

Guitar

(1997)

Travis Smith

:

Bass

(1997)

Tim Walsh

:

Bass, Guitar, Keyboards, Drums

(2000, 2002, 2003-2006)

Christian Wargo

:

Guitar

(2003)

Blake Wescott

:

Drums

(1998)

Casey Wescott

:

Keyboards

(2001)
Releases : 17 Total votes : 0 Reviews : 0
Added by

SludgeLeader
Pedro the Lion Discography
Additional notes
Pedro the Lion is the brainchild and main output of Seattle singer/songwriter David Bazan.

The band was formed in 1995 and officially dissolved in January 2006, at which point Bazan began recording and touring as a solo artist.

Bazan revived the Pedro the Lion name in late 2017, announcing a series of reunion shows in December. The band signed to Polyvinyl Record Company in January 2018 with the promise of newly recorded material to be released in early 2019. Pedro the Lion toured extensively throughout 2018.