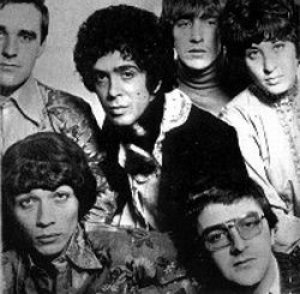 Nirvana
Patrick Campbell Lyons

:

Rhythm Guitar, Vocals

Alex Spyropoulos

:

Keyboards, Guitar

(1967-1971, 1985-)
Ray Singer

:

Guitar, Vocals

(1967-1968)

Brian Henderson

:

Bass

(1967-1968)

Sylvia Schuster

:

Cello

(1967-1968)

Michael Coe

:

French Horn

(1967-1968)

Peter Kester

:

Drums

(1967-1968)

Keith Smart

:

Guitar, Sitar

(1996)
Releases : 10 Total votes : 0 Reviews : 0
Added by

Pop-Tarts
Additional notes
It must have been a rude surprise for Kurt Cobain and company to be hit with a lawsuit over the name of their band once they became internationally successful. In the finish, however, the result was relatively amicable, with the original Nirvana getting together long enough to record a version of Cobain's "Lithium" for a 1996 collection of previously unreleased material.

Nirvana appeared in 1967, starting as a six-piece led by Patrick Campbell-Lyons from Ireland, and Alex Spyropoulos from Greece. They were quickly signed to the fledgling Island label, which had formed out of Chris Blackwell's street-level R&B and rocksteady label operations, when Blackwell recognized a need to hook into the exploding psychedelic genre of the time. The first LP to emerge was the science-fiction concept album, The Story of Simon Simopath, which yielded their second single, "Pentecost Hotel" (their first and third singles appeared on the follow-up, All of Us.)

The band's early performances yielded something of an audience, but this did not translate into explosive sales in England or America, though the band achieved some success in Europe. Winnowing down to the core duo of Campbell-Lyons and Spyropoulos, Nirvana continued to release singles from All of Us, with the title track going on to be selected as the theme song for The Touchables, while "Rainbow Chaser," an almost-hit, came to be considered a classic psychedelic outing.

Life at Island Records did not go so well, unfortunately, with Chris Blackwell refusing to release their third album, Black Flower, so the duo picked up and moved on to Pye Records, home of the Kinks. Black Flower was bought back from Island and worked over, finally being released as Dedicated to Markos III. The result was disastrous. The constantly beleaguered Pye (which would eventually founder) managed to shift only a few hundred units, while the U.S. label to which the album was licensed promptly went under with no more than a few promotional copies having been sent out. Dedicated to Markos III eventually received another release in 1987, restored to the original title of Black Flower, with the 1993 Edsel CD release including a re-recorded version of "Pentecost Hotel" and a newly recorded track titled "Shine."

With the release of Dedicated to Markos III, Spyropoulos quit to pursue other musical work. Nirvana had become very much Campbell-Lyons' venue by this point, and Spyropoulos had had enough of feeling constrained. Campbell-Lyons then signed to Philips' new progressive label, Vertigo, recording and releasing Local Anaesthetic, a heavily jazz-influenced album featuring only two cuts: "Modus Operandi," and the somewhat less epic "Home." The album was quick to disappear from view, as was Songs of Love and Praise, which featured several re-recorded cuts, including both "Rainbow Chaser" and "Pentecost Hotel."

Campbell-Lyons came out from behind the Nirvana name for an attempt at a solo album, Me & My Friend, which came and went swiftly in 1973. In 1980, he reunited with Spyropoulos to write a musical, Blood, which has yet to surface. The duo have sporadically performed and recorded as Nirvana, which led to Bam Caruso's 1987 reissue of Black Flower, as well as renewed interest in the group. Most of the original albums have been reissued by either Edsel or Repertoire (Songs of Love and Praise is the sole exception), a collection of demos and outtakes, entitled Secret Theatre, has been released, and a new album, Orange and Blue, featuring material previously unrecorded by the band, was issued in 1996.

From all indications, it would appear that Nirvana, having come together again in the '90s, intends to be around for some time longer.