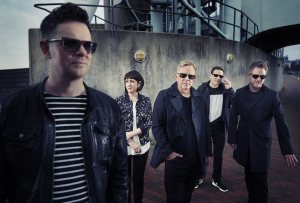 New Order
Bernard Sumner

:

Lead Vocals, Guitar, Synthesisers (1980–1993, 1998–2007, 2011–)

Stephen Morris

:

Drums, Percussion, Keyboards, Programming (1980–1993, 1998–2007, 2011–)

Gillian Gilbert

:

Keyboards, Guitars (1980–1993, 1998–2001, 2011–)

Phil Cunningham

:

Keyboards, Guitars, Electronic Percussion (2001–2007, 2011–)

Tom Chapman

:

Bass, Synthesisers (2011–)
Peter Hook

:

Bass, Electronic Percussion, Vocals, Synthesisers (1980–1993, 1998–2007)
Additional notes
New Order was formed in 1980 after the suicide of Joy Division vocalist Ian Curtis. The other three members: Peter Hook, Stephen Morris, and Bernard Sumner decided to continue performing together, however had a previous agreement to retire the Joy Division name if any member left. The trio adopted the name New Order, Sumner adopted the role of vocalist, and Gillian Gilbert joined as keyboardist and guitarist. In 1981, the band released their debut album Movement, which carried on the gloomy post-punk sound of Joy Division but gave an increased role to synthesizers. Many members of the band later came to see Movement as a subpar record, blaming their grief after Curtis' death.

While in New York, the band were introduced to various forms of electronic dance music. This has a profound influence on them, with many claiming the discovery of dance music helped them through their grief over Curtis. Their next album, 1983's Power, Corruption & Lies, reflected this by having a less somber and more electronic sound. The standalone single Blue Monday / The Beach heavily reflected dance music's influence on the band. Their next two albums, 1985's Low-Life, and 1986's Brotherhood continued their divided alternative rock and electronic dance sounds.

In 1989, the band released Technique, which incorporated elements of acid house and is considered an important precedent to the Madchester movement. Technique debuted at number one on the British charts, making for a major mainstream breakthrough the band had not seen since Blue Monday.

In 1992, Factory Records, the label Joy Division and New Order had spent the majority of their careers on, dissolved, and New Order signed to London Records, where they released Republic and subsequently placed the band on hiatus.

In 1998, New Order returned from hiatus. They released Get Ready in 2001, a departure from their EDM leanings that returned to a more guitar-driven sound. Gilbert took a more and more subdued role in the band as she prioritized caring for her children, and it was decided to bring in Phil Cunningham to replace her, first in a solely live capacity, and later on studio recordings too.

In 2005, the band released Waiting for the Sirens' Call, a return to their electronic sound, with the single Guilt Is a Useless Emotion winning the Grammy Award for Best Dance Recording. In the following year, Hook continually suggested that New Order break up, causing tension between him and Sumner. The band again went on hiatus, with Sumner stating in 2009 that they had officially broken up.

In 2011, the band announced it had reformed without Hook. Gilbert returned to the band alongside bassist Tom Chapman. In 2013, Lost Sirens, which had been recorded with Hook during the Waiting For the Siren's Call sessions, was released on Rhino Records. In 2014, the band announced they had signed to Mute Records.