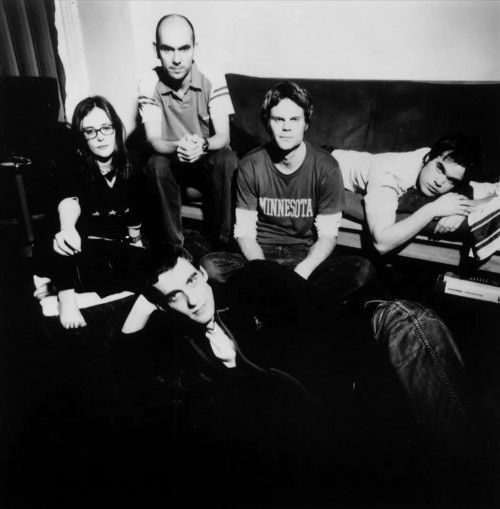 Mojave 3
Rachel Goswell

:

Bass, Vocals

(1995-2007, 2011)

Neil Halstead

:

Vocals, Guitars

(1995-2007, 2011)

Ian McCutcheon

:

Drums

(1995-2007, 2011)

Simon Rowe

:

Slide Guitar, Electric Guitar

(1996-2007, 2011)

Alan Forrester

:

Piano, Organ

(1996-2007, 2011)
Releases : 11 Total votes : 0 Reviews : 0
Added by

SludgeLeader
Additional notes
Mojave 3 was born from the ashes from the shoegazer band Slowdive, whose record sales did not satisfy their record company Creation, which dropped them in 1995.
Shortly thereafter, Neil Halstead (vocals and guitar), Rachel Goswell (vocals) and Ian McCutcheon (drums and percussion) started recording demos, which they sent to various record companies. 4AD founder Ivo Watts-Russell got hold of the demo and signed them.
They started the recording of their CD "Ask Me Tomorrow" right away, and chose the name "Mojave". They recorded a promo, which only made it outside the 4AD headquarters in small quantities, before they learned of a US band (signed to a German label) with the same name, so they quickly changed their name to "Mojave 3", and the promo was then sent out with a sticker on the cover that now said "Mojave 3" while the actual records still said "Mojave".
The first record, "Ask Me Tomorrow", was released on November 1995, and a tour began with various acts. The record featured Christopher Andrews on Piano (He later became Rachel's husband and is now playing in the group Cuba), Simon Rowe on lead guitar and Audrey Riley on cello.
After having toured across UK, Europe and USA, with Simon Rowe and Poppy Gonzalez on piano (who was later replaced by Al Forrester), they began to record their second LP. The single "Who Do You Love" was released in June 1998, followed by "Some Kinda Angel" in September. The second album "Out Of Tune" was then released in October. The band then proceed with a live tour, with Bernard Butler among others (Neil played with his band simultaneously). The band also did some songs for the soundtrack of the movie "A Walk On The Moon" , but only one of them, a cover of Love´s "No Matter What You Do" was included on the actual CD.
In 1999 and beginning of 2000, Mojave 3 toured very little and recorded their 3rd album, "Excuses For Travellers", which came out in May 2000.
A 4th album, "Spoon And Rafter", was released on September 2003.
Both Halstead (the main songwriter for the band) and Goswell have released solo albums, also for 4AD. McCutcheon founded his band called The Loose Salute who are signed to Heavenly Records and Graveface Records.
In 2006, Mojave 3 released their fifth and last studio album "Puzzles Like You". Halstead said the band was on hiatus as of 2008, but were planning to release at least one more album in the future. The band returned to playing live in 2011, including gigs supporting Band of Horses . During a radio interview on Israeli radio station Kol HaCampus on 7 May 2011, Halstead said the band were working on new material, and may be recording during the summer, however, nothing materialized.